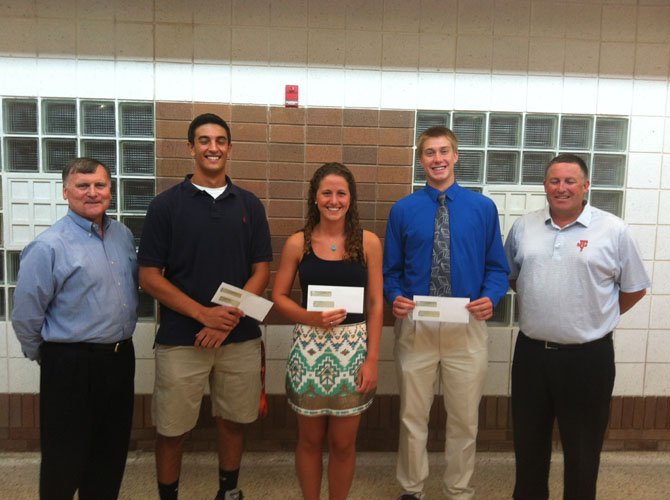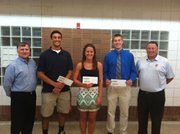 The Fort Hunt Youth Athletic Association announced the winners of the 2013 Jackson Casey Memorial Scholarships. The four winners were selected from a pool of applicants, all of whom were asked to describe in 750-1,200 words the life lessons they learned through their participation in Fort Hunt youth athletics.
The scholarships are in memory of Jackson Casey, a FHYAA athlete who died in 2011.
Applicants were required to have participated in an FHYAA sport at some point in their career. Applicants came from six area high schools and represent 13 colleges from coast to coast.
"This was a very strong showing for the first year of the scholarships," said Robert LaGow, FHYAA board member and administrator of the scholarship contest. "We expect that it will be an even bigger pool of applicants in the years to come as word gets out about the Jackson Casey Memorial Scholarships."
The winners are:
Alex Houser, a West Potomac graduate, is headed to Virginia Tech in the fall. Houser played baseball and basketball for FHYAA.

Mary Patalita, a Georgetown Visitation graduate , plans to play lacrosse at The College of the Holy Cross. Patalita played Fort Hunt basketball in addition to lacrosse.

John Schlesinger, a graduate of Pope John Paul the Great, will be attending Old Dominion University. Schlesinger played Fort Hunt basketball.

Tonette (Toni) Stapleton, a graduate of Thomas Jefferson School for Science and Technology, is headed to Northwestern University. Stapleton was a Fort Hunt softball, lacrosse and basketball player.
"Not only are these special young adults, but it was a joy reading about how sports and competition shaped their lives," said Sean Casey, the father of Jackson Casey and a judge for the contest.