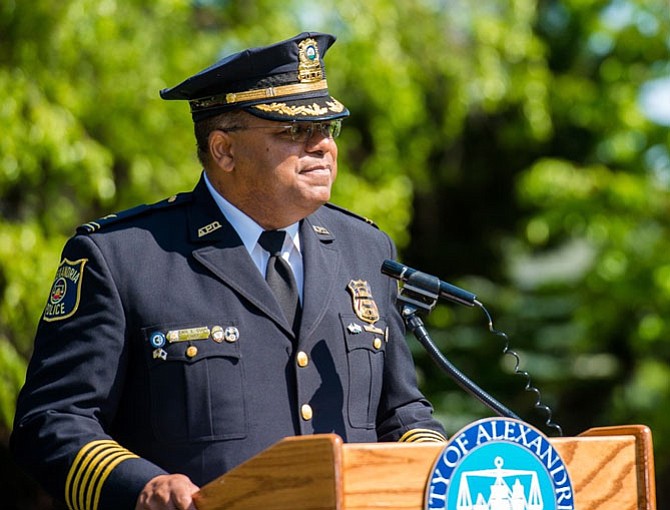 After a 37-year career in law enforcement, Alexandria Police Chief Earl Cook has announced his retirement from the force effective Oct. 1.
"It is with mixed emotions that I announce my retirement from our Department," Cook said in a June 24 email to his officers and staff. "Oct. 1 will be my last day of work with the Agency."

Cook, a native Alexandrian, is the first African-American to serve as chief of police in the city's history. He was appointed chief of police in August of 2009 after serving in an acting capacity following the retirement of Chief David Baker earlier that month.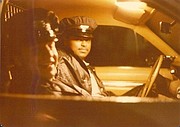 "I have dedicated two-thirds of my life to what I consider the most honorable of professions," Cook went on to say. "It has been challenging, exciting and rewarding all at once. I chose to work and serve in my home town and I have never regretted that decision."

Cook began as a police academy recruit in January 1979. One of his fellow classmates was Dana Lawhorne, now sheriff of Alexandria.
"I met Earl in 1979 when we both started as Alexandria Police officers," said Lawhorne, who served with Cook in uniform patrol, the fugitive unit and as detectives. "We spent a lot of time together on and off duty and became good friends. I have always admired Earl for his passion to help others, his loyalty to family and friends and his determination to serve with honor and integrity. His is a great story about a local kid who rose all the way to the top in one of the country's best police departments."
Upon graduation, Cook worked in patrol and criminal investigations through 1989. Over the next six years, he was promoted to sergeant, lieutenant, captain and assistant chief. As assistant chief, he managed the criminal investigations bureau and was named deputy chief in that role three years later.

In 2006, he rose to the position of executive deputy chief, serving as second in command and acting for the chief in his absence. Upon his appointment as chief in 2009, Cook assumed command of more than 400 officers and civilians.
Willem Polak, president of the Alexandria Police Foundation board of directors, worked closely with Cook to get the Fallen Officers Memorial built. It was dedicated in March of 2015.
"Working with Chief Cook on behalf of the Alexandria Police Foundation as well as a business owner in Alexandria for 30-plus years has been a joy," Polak sad. "I think all of us on the foundation and those in business as well as our citizen groups have had the benefit of his great leadership. The Fallen Officers Memorial and the Community policing programs (COPS) are just two of his many accomplishments. As a public servant, he leaves with a job well done."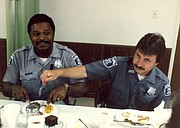 Cook was born and raised in Alexandria. He grew up on Princess Street and attended Lyles-Crouch Elementary School, Mt. Vernon Elementary School, Parker-Gray Middle School and George Washington High School through 10th grade. He transferred to T.C. Williams High School and became a member of the famed 1971 Titans football team.
After graduating from TC in 1973, he attended Duke University, where he earned a bachelor's degree in history and education. Cook is a graduate of the Federal Bureau of Investigation's National Academy Program. In addition to his law enforcement career, he has been a champion of youth initiatives and mentoring.
"The thing I have enjoyed most about Earl is his wonderful sense of humor," Lawhorne said. "He really has meant a lot to me and to this city."
The city has retained the International Association of Chiefs of Police to recruit Cook's successor. The search will include input from stakeholders throughout the community; additional details will be announced as they are developed.
"The citizens I've worked with, the many friends in the community allowed us to work together to make this a safe city with an enviable quality of life," Cook said. "I'm grateful for the opportunities I've had to pursue a rewarding career and work with some of the finest men and women in law enforcement. My retirement is bittersweet; however, I look forward to the future challenges in my life."