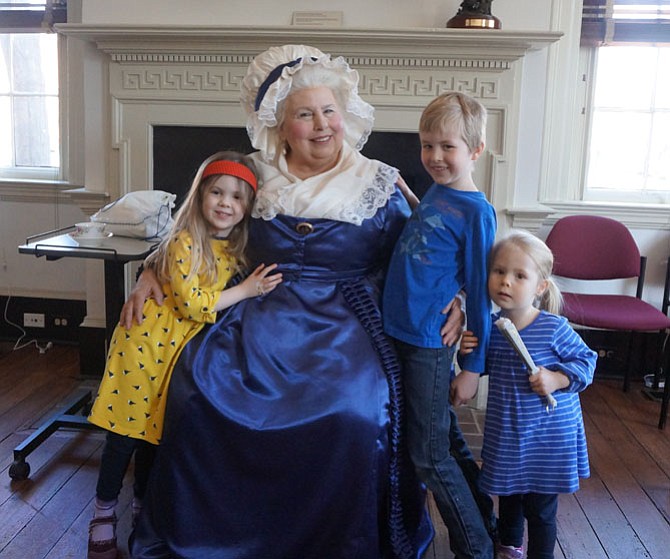 America's first First Lady made a visit to Alexandria Feb. 27, holding court at Lloyd House as part of the Talking With Washington series and celebration of George Washington's birthday.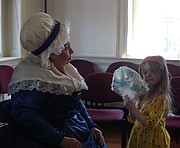 Portrayed by Mount Vernon character interpreter Mary Wiseman, Martha Washington regaled attendees with stories of her life with the father of the country and the challenges faced as a woman in the 18th century.
"I thought she was lovely," said 5-year-old Margaret Stoll. "Her great blue dress and fan and bonnet looked very elegant."
Margaret attended the event with her siblings, Timothy, 8, and Eleanor, 3, who learned the proper etiquette for using a fan.
"I liked the fan and the dancing girls on her fan," Eleanor said.
In the one-hour presentation, Martha Washington shared her observations about her life, including her courtship with George and life on a Virginia plantation.
"I loved her story about Vulcan stealing the ham," said Timothy Stoll. "If I had seen it I would have laughed my heart out. I also liked hearing about her childhood and siblings."
Wiseman, who has been portraying Martha Washington for more than 14 years, answered questions and posed for a "portrait" with the Stoll family before returning to Mount Vernon.
""The kids really enjoyed meeting Mrs. Washington and hearing her wonderful stories," said Jennifer Gniady, mother of Timothy, Margaret and Eleanor. "And Tim also enjoyed learning to bow properly to Mrs. Washington. It really was a great event for the family."