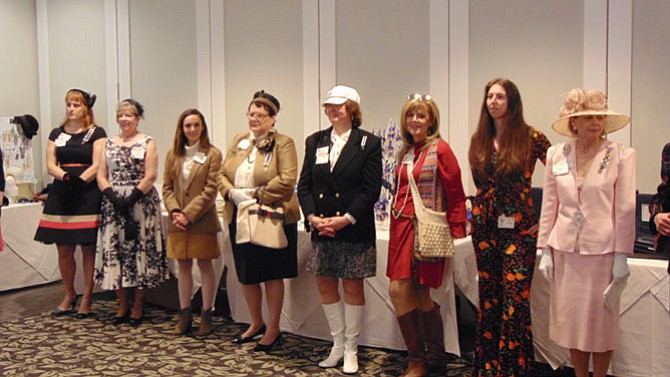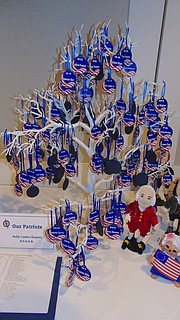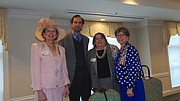 The National Society Daughters of the American Revolution Nelly Custis Chapter, with 155 members, held its 90th Anniversary Celebration with a luncheon and fashion show on Saturday, Feb. 24, at the Mount Vernon Country Club.
"It's truly an honor to be at the 90th anniversary of the DAR Chapter for Mount Vernon," said Mount Vernon Supervisor Dan Storck who offered greetings. "They've contributed immense amounts of energy, support, and history to our understanding of the community, Nelly Custis, and the Washington family. It's a pleasure to have them here today at the Mount Vernon Country Club."
Storck gave a presentation on major initiatives happening in the Mount Vernon area, including Route 1 widening, Bus Rapid Transit, revitalization in the Richmond Highway Corridor, and what to do with the original site of Mount Vernon High School. He mentioned the "Colonial Corridor," which provides the opportunity to bring tourism to our cultural gems, including Mount Vernon Estate, Woodlawn, Pope-Leighey House, (Frank Lloyd Wright's house), and Arcadia, as well as the U.S. National Army Museum that's slated to open in 2019.
Natalie Ardoline, the Nelly Custis Regent, was pleased to have many state officers attending as guests, including First Vice Regent Rebecca Morgan Rogers; Organizing Secretary Laura Nesbitt; and Recording Secretary Sherry Edwards. The guest speaker was District V Director Wanda English.
Susan Palmer, who organized the "Nelly Custis by the Decade" fashion show, said the 18 models donned DAR outfits starting from 1928, the year that Nelly Custis became a chapter, and progressed to present day. "These are clothes that people would have worn to DAR, and some of the outfits are what Juniors would have worn. The most interesting thing I found was we did not have to rent anything; everything was out of somebody's closet or their mother's or their grandmother's," she said.
Liz Hyde, DAR Registrar, whose job is to help people trace their ancestry back to the Revolutionary War, said the Nelly Custis Chapter was founded in April 1928 in Fort Humphries, Va. "Sometimes there were women who provided help to the military, maybe they provided a cow, or coats or blankets, and those women are also considered Revolutionary War patriots. You learn a tremendous amount about American history when you are working on joining DAR because you get bits and pieces of your lineage as you go through the years," she said.
Ardoline said on Oct. 15, 1994, the Irvine-Welles Chapter became the Nelly Custis Chapter in honor of Eleanor (Nelly) Parke Custis, who was the granddaughter of Martha Washington and was adopted by George Washington.
When Nelly married George Washington's nephew, Lawrence Lewis, Washington presented her with Woodlawn Plantation, carved from his estate. Annually, Nelly Custis chapter members participate in a wreath-laying at Nelly Custis's grave site on the grounds of Mount Vernon Estate and volunteer at the Woodlawn Needlecraft Show. The chapter also provided $10,000 for restoration and conservation of Nelly Custis's children's crib.
Other DAR activities include: Support of veterans and active-duty members with Project Patriot and Fisher House. They also provide gifts and participate with veterans at the Christmas luncheon at the Armed Forces Retirement Home in Washington, D.C., as well as greet Honor Flights at Reagan National Airport. They give financial and material support to DAR schools, which include Tamassee and Chemawa, and books to local schools such as Cameron Elementary. They also award Good Citizenship certificates to local schools.
Members also attend Naturalization ceremonies, Constitution Day celebrations, the DAR Christmas Open House, and have participated in the Susan G. Komen Race for the Cure.
In 2016, they raised $12,500 to plant pink dogwoods along the GW Parkway. Their service project for 2016 was the clean-up along the Potomac at Dyke Marsh. In 2017, their service project was recording and photographing the headstones at Pohick Church cemetery.
For more information on the Nelly Custis Chapter of DAR, visit http://www.nellycustisdar.org.