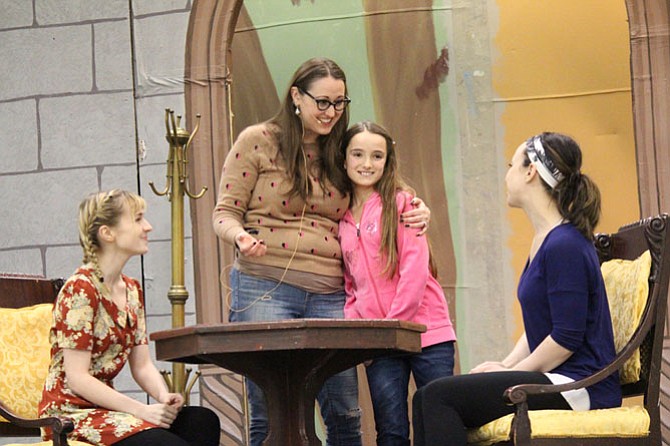 Aldersgate Church Community Theatre (ACCT) is putting on "Little Women" from March 4-20. Written by Louisa May Alcott, the story traces the lives and loves of four sisters: Meg, Jo, Beth, and Amy. During the Civil War, their father is away serving in the army, leaving his "little women" in the care of their mother. The family, headed by Marmee, must struggle to make ends meet with the help of their wealthy neighbor, Mr. Lawrence, and his high-spirited grandson, Laurie.
Director Ashley Amidon said she wanted to bring "Little Women" to life in a way that connects the audience to a story occurring 150 years ago. "It can be hard whenever a theater tackles a period piece, because the language, the setting, the motivations — they can seem so old-fashioned and disconnected from our lives," she said. "This story is such a gem though; at a time when women didn't even have the right to vote and slavery was still an everyday thing, we get a peek inside a very modern family tackling issues that are absolutely relevant to today."
She added: "For me, the best part is charting Jo (Heather Norcross) as she figures out who she is and what she wants in life. We watch her figure out what she wants to do as a career, what type of love she wants ... how many of us have our lives figured out that well?"
She said her challenges as a director were modernization and authenticity. "We are keeping the original setting of 1860s New England, and the March family was very progressive for their time, but making sure the actors portray an authentic yet modern interpretation of these characters is key," she said. She said the scene between John Brooke (Brendan Quinn) and Meg (Emily Golden) where both characters have to overcome language that, while commonplace at the time of writing, might make modern audiences uncomfortable, particularly the stridency of Mr. Brooke while wooing Meg. "However, I am very lucky to have incredibly talented actors who bring a softness to a scene that I think transcends the time and language," she added. "We are seeing a man who desperately, deeply loves a woman, and is uncertain of her feelings, while she in turn feels torn between her love and her family; that's a modern theme that I think many people in the audience can appreciate."
She said she hopes audiences walk away struck by the resilience of a family (or any group of people that love each other really) in the face of both hardships and joy. "I think part of what makes 'Little Women' so wonderful is that it isn't an ideal world where nothing goes wrong and there is no real test of character for anyone. This story has stood the test of time because it encompasses the mundane, everyday test of character as well as the big hurdles ... We follow a family over almost 10 years, and we see the aches and pains that come from being part of such a vibrant and diverse family, and by the end, their trials are ours, because we recognize something of ourselves in these characters."
Co-Producer Leah Hays said "Little Women" was one of her favorite books when growing up. "The dog-eared pages of my unabridged copy provides good evidence of that. With every read I would choose a different March sister to imagine myself as; but, like many of my peers, I admired Jo's spirit the most."
She added: "My connection to the book and support of Aldersgate Community Theatre drove my decision to co-produce 'Little Women.' I am so excited to see the story come to life with our talented actors in their beautiful costumes against our attractive, period-appropriate set."
Each member of the March family has a distinctive personality, she said, which contributes energy to their interactions and can give rise to emotions from time to time. "Yet through all the trials they face, they do so united, with love and devotion to each other. While the story is set during the Civil War times with specific issues and a culture that is somewhat different from today, its messages about the strength of love, the value of family ties, the importance of independence and staying true to yourself are still appropriate now."
Heather Norcross plays the role of Jo March, who is a strong, opinionated and impulsive character. "As she says in the play, she 'can't get over her disappointment in not being a boy.' This is because she wants to be independent and have all the options open to her, which is generally not the case in the 1860s for women. She has a quick temper that sometimes gets her into trouble, but she loves her friends and family so deeply she makes the effort to control herself," she said.
The challenge was memorizing so many lines, she said. "Jo is in every scene of the play and likes to talk in paragraphs. I had to use every trick in my arsenal for memorization and even asked friends for their go-to strategies," she said. "The play spans about five years also, so I had to find a way to convincingly play a girl in her impulsive teenage years who matures into adulthood over the course of a two-hour show."
John Trope plays the role of Theodore Lawrence, a neighbor to the March household who lives with his grandfather and is an heir to his great fortune. "He prefers to be called Laurie and develops a love interest for Jo, one of the March sisters. He desperately wants to be accepted into the March family," he said.
He said Laurie is used to getting what he wants and has trouble accepting the fact that Jo doesn't have the same feelings for him. "It was difficult to identify my average lifestyle to his upper-class privileges."
Casey Kniseley plays the role of Beth March, the quietest personality of the sisters, but she's also the most selfless and kind. "She's shy and kind of a shrinking violet, but she always wants to help others, even if it means putting herself at risk," she said.
As far as challenges, she said, "I think the hardest part about doing 'Little Women' in play form is portraying just how much time elapses for the family. The book spans a huge portion of the girls' lives, and reflecting that growth and change in a matter of hours is tough."
She added: "The book really was a girl power story for its time, and a lot of that still translates when you read it today. I hope that carries over in our show and the audience sees that."
Sophia Manicone plays the role of Amy March, the youngest of the March sisters. "She's sort of 'fancy' and loves art. She's a little jealous of her older sisters' going out to do fun things without her. And sometimes she gets a little sulky," she said.
She added: "I think people often see Amy as spoiled and selfish, so the challenge in this role is trying to show that she isn't all bad. She can be thoughtful and generous, like the scene where she surprises her sisters with a Christmas gift for their mother that costs a lot of money. This is one of the times when you have the chance to see that there's more to Amy than most people think."
Elizabeth Replogle plays the role of Marmee, the March girls' mother. "One of my favorite things about her is that she treats each of her children as a person, meaning she doesn't talk down to them and isn't dismissive of their problems," she said. "She recognizes that they each have different strengths, doesn't shield them from life's difficulties, and isn't afraid of sharing her own vulnerability."
She added: "The first thing I thought about after being cast was whether I'd really be able to do justice to this quintessential maternal role, because I have no children in real life. Luckily I have a strong relationship with my own mom, and so many of my close friends are amazing mothers, so I was able to look to some of their experiences to inform how I approached the role."
She said it's interesting to consider that even though this play takes place 150 years ago, so many of the themes and the struggles of the characters can resonate with an audience today — "the importance of family, the trials of growing up, the role of women in society. It really is a timeless story," she said.
Deborah Sapolsky plays the role of Hannah Mullet, the housekeeper for the March family for many years. "She is a middle-aged, kindly-looking woman," she said. "She is a no-nonsense worker and has such regard and love for her 'family' and always tries to help whenever possible, knowing their strained circumstances and their father being away during the war."
As far as challenges, she said, although Hannah was a servant to the March household, she is also treated and loved like a family member, which was not the norm for that time period. "There is this fine line to show the deference — being humble, always listening, yet perhaps wanting to say something," she said.
Aldersgate Church Community Theatre (ACCT) is staging "Little Women" from March 4-20. Show times are Fridays and Saturdays at 8 p.m.; and Sunday matinees at 2 p.m.Tickets are $12 to $15. The venue is located at 1301 Collingwood Road, Alexandria, VA 22308. Visit the website at www.acctonline.org.