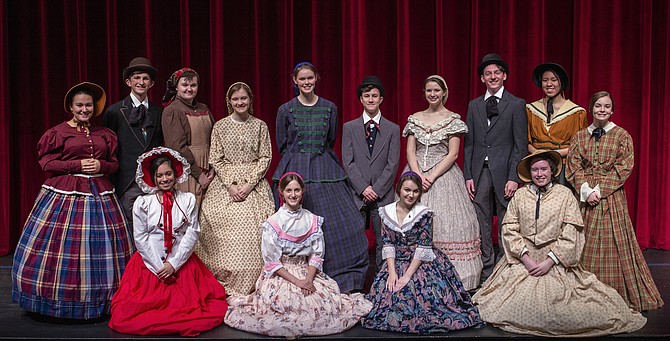 With a cast of 14 student actors, Bishop Ireton High School is staging "Little Women" from Nov. 15-23, 2019. The show is adapted from Louisa May Alcott's classic novel from the 1860s and written by Scott Davidson. The story follows the lives of the four March sisters — Meg, Jo, Beth and Amy — and their passage from childhood to womanhood. Sony Pictures is releasing the movie of the same name, the eighth film adaptation, directed by Greta Gerwig and starring Meryl Streep, Saoirse Ronan and Emma Watson this Christmas.
"I really liked the message of 'Little Women' with strong family values, and I just thought it would be a good play for Bishop Ireton to do," said Director Joanna Henry. "It's centered around Jo March; it's her story. Beth dies and Jo and Beth had a very close relationship it affects Jo and the whole family, and it's about the strength of family ties."
She added that last spring, she asked her advanced theater classes which play they would like to see, and "Little Women" was the one they wanted to do. She said Carly Walbert, the Assistant Director of theater arts, thought it would be a good play for Bishop Ireton as well.
One of the biggest challenges in staging this production was the renovation the school is experiencing, she said. "The school is undergoing massive construction, so all of our set pieces and props were put in an off-storage site, and we're not able to get access to them. So, we're not having walls. We're going to have silhouettes, archways and windows," she said.
"We're doing a very creative interpretation of the set and doing a lot with lighting. I think it is going to be an interesting play visually for that. Everyone has been very flexible and helpful so I think it's going to look great."
Dagny Scannell, 16, of Alexandria is playing the role of Jo March, a tomboy growing up in the Civil War era who wants to be a writer. "She's a very determined person. I thought it was cool to go into her shoes to be comfortable in her own skin. She is someone who will work for what she wants," Dagny said. "It's very rewarding to be able to experience her focused outlook from an acting perspective and as a person. She's someone who is so focused and vulnerable at times. Portraying that balance on stage has been a challenge but something that I've enjoyed."
She added that as far as challenges go, "It progresses over a long period but the scenes are relatively short and we have to show a lot of development from a character's standpoint. We have to show how the characters are changing and remember that's how the show goes on."
Owen Peters, 17, of the District plays the role of Laurie, the neighbor who ends up marrying Amy at the end of the show. "He's a young-at-heart, playful and a loving character. He comes from Europe, where he lost both of his parents, and he moved here and lives with his grandfather. He is friends with all the March girls and in the beginning, he tries to pursue Jo and ends up marrying Amy."
He added: "I'd say the most challenging thing is that when I proposed to Jo March and she turned me down. So, when I was acting, I was trying to find balance in that situation. Throughout the entire show it's him trying to woo her and when he tries to put himself out there fully, she turns him down. And then he leaves and goes to Europe for a while and he grows closer to Amy and eventually marries her. The main challenge was trying to portray the inner feelings of Laurie in that situation."
Melanie Becker, 15, of Springfield, plays the role of Amy March. "Amy is the self-centered youngest sister who wants the best for herself, and she wants to improve her painting; she's an artist. She's jealous of Jo because everyone loves Jo's writing. But she's very close to her sisters and dreams of having the finer things in life that she doesn't have. She gets to travel to Europe for her art," she said.
She said Amy's age span in the play goes from 12 to 17. "I'm 15, so I'm in the middle of that, so bringing myself to a younger age and stretch to an older age in a short amount of time was challenging," she said.
She added: "I hope the audience gets to experience the warm family life that the Marches have together, and that it brings them back to the story that everyone knows and loves and adds a new interpretation to it."
Samantha Fisher, 18, of Alexandria, plays the role of Beth. "She's the third March daughter; she's a shy and caring young girl who deals with poor health in the show. She dies at the end of the play," she said.
She added: "We worked a lot on the physicality of walking and sitting and moving like a sick person. She has Scarlet fever and she's weak and dying as the play goes on. We worked on how I would move and talk to show that I'm not a healthy person and to show that I'm struggling."
As far as takeaways, she said: "I think the show is really interesting because it's a snapshot to life in the 1860s. The social expectations at the time for women were narrower and they had less paths to take so that's interesting to see. Also, people can relate to it because the family is really close to each other and they can see that in themselves."
Bishop Ireton High School is staging "Little Women" from Nov. 15-23, 2019. Show times are Nov. 15 and 16, at 7 p.m.; Nov. 17 at 2 p.m.; and Nov. 22 and Nov. 23 at 7 p.m. Tickets are $10/adults; $8/students and seniors. The venue is located at Bishop Ireton High School, 201 Cambridge Road, Alexandria. The link to purchase tickets is www.bishopireton.org/tickets.