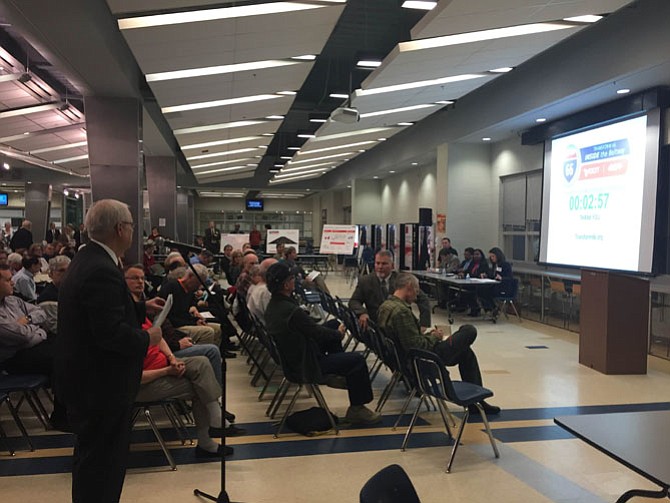 After a year of meetings and hearings, the Virginia Department of Transportation (VDOT) is beginning to move into the final phase of outreach for the I-66 transformation projects. At a regional level, most of the criticism was centered around the new tolling and extended High Occupancy Vehicle restrictions. For Arlington, the concerns are a little different.
At the March 7 public hearing in the Washington-Lee High School cafeteria, local residents posed a variety of questions.
"I'm hoping to learn when we'll stop being able to use I-66 for [my husband and I]," said Elaine Eder, an Arlington resident who says she currently uses I-66 to drive her husband, who has dementia.
"Where are the benefits for Arlingtonians," asked J.B. Rolter, a resident who lives north of I-66. "I see enforcement and tolling, but I don't see the benefits. Something needs to be done, but what's the master plan here? How's is this going to work out for the people living here? What's the system-wide effect?"
The presentation itself was largely unchanged from previous meetings with the Arlington Transportation Commission and various homeowner associations. Amanda Baxter, special projects manager for VDOT, explained the expansion of HOV hours and the tolling.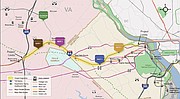 "Our goal is to move 40,000 people every day by 2040."
— Amanda Baxter, Special Projects Manager, VDOT
"Our goal is to move 40,000 people every day by 2040," said Baxter. To that end, VDOT will extend HOV hours from 6:30 to 9 a.m to between 5:30 to 9:30 for eastbound travel and from 4 to 6:30 p.m. for westbound traffic to 3 to 7 p.m. For drivers traveling alone, I-66 will be tolled during those hours, with costs dependent on how far the trip is along I-66. For drivers like Eder, HOV-2 will remain toll free in 2017, but will be pushed up to HOV-3 in 2021. Unlike the Dulles toll road, all tolls are electronically collected and processed via EZ-passes, which all cars would be required to have.
During the presentation, Baxter noted that potential widening, which has been a primary concern for many Arlingtonians, was not part of the I-66 tolling discussion and would be pushed back for future meetings.
When it came time for the public comment, the room was mostly silent. Though more than 100 citizens showed up, only five spoke. Afterwards, Baxter said she suspected that having the expansion discussion on a different day was part of the reason some of the residents were not as vocal as they otherwise might have been. Baxter also noted that VDOT had previously met with every affected homeowner's associations, which gave opportunities to address local questions on a smaller scale.
Among the few who spoke, one of the more prevailing sentiments was that Arlington could be getting a bad deal. While part of the presentation included a map showing no significant change on streets near I-66, some of the residents weren't as sure.
"I'm concerned about the traffic impact," said James Walter, saying that he saw the map showing a neutral impact to local neighborhoods, but said he was skeptical about how that would work in practice. Local residents were concerned that the tolling on I-66 would push drivers away from the main road and out onto the side streets.
"The map showed no real impact on the neighborhoods," added Andy Steward. "How did the study come to that conclusion?"
After the meeting, Baxter said, the traffic study was calculated on the regional model that assesses monetary decisions weighted against average driver's value of transit time.
Steward echoed Rolter and many of the other Arlingtonians in the room, asking what kind of benefits the project would bring at a local level.
"At the risk of sounding selfish, what are you going to do for us?" Steward asked, followed by applause from the audience.
"We're going to be offering 45 miles per hour greater transit speeds by reducing congestion," said Baxter. "That's a guarantee you don't have today."
David Snyder from the Falls Church City Council said that the project will succeed or fail on whether the model predicting drivers won't divert onto side streets is accurate or not.
"The real success will be whether it's going to achieve its objectives with how people react to tolls," said Snyder, "and whether [VDOT] will pay for alternatives to single occupancy transit."