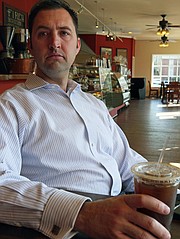 Detective William Woolf remembers the day he first realized there might be sex trafficking of young girls going on right in front of him.
He was a gang detective in Northern Virginia where he was responsible for investigating gang crime, compiling intelligence on gang activity and spreading information throughout the D.C. area. Despite all of his past training he didn't know about sex trafficking. "I thought it was something that happened in third world countries," he said.
It was back in 2009 and he was working a gang case for M-13 and they had inserted an informant into the gang. The informant came back and reported he thought the gang was making money from prostitution. "It didn't register. I thought they would be consensually engaging in sex and sharing the money," Woolf said. Then one night the informant reported he was uncomfortable with the girl they had that night — she looked young. "That's how we recovered a 16-year-old girl."
Woolf said there was no one working this area of human trafficking in Northern Virginia, so he started to do research by combing through police reports, conducting interviews. He thought the girls were consenting prostitutes and that the vice unit could deal with it. But he kept looking. He went to some informants and asked if sex trafficking was widespread and got a resounding yes. It was in 2010 and he had an a-ha moment and realized human trafficking was going on right here. "I needed to better understand it. And I needed to do something about it."
Since then Woolf says he has become passionate about the issue. He has conducted more than 300 interviews with recovered victims: "These are real people. People have no idea sex trafficking takes a physical and psychological toll, and the victims are never the same afterwards. We should be standing up to fight for them."
As he started working the cases he began collaborating with state representatives Tim Hugo and (now U.S. Rep.) Barbara Comstock to increase penalties for sex trafficking in Virginia. "Detective Bill Woolf has been a guardian angel for our children and young adults for many years here in Fairfax County," Comstock said. "His tireless work of exposing the dark, inhumane crime of human trafficking in our community has made our children safer. Detective Woolf has also been relentless in hunting down those who prey on the young and vulnerable in our community."
In addition, Woolf helped create educational materials for schools and the community to increase awareness and provided training for law enforcement. Woolf says after every one of these sessions an officer says to him he thinks he has seen sex trafficking and just didn't recognize it at the time.
The National Human Trafficking Resource Center 2015 statistics report for Virginia show human trafficking reports up from 126 in 2013 (70 of those sex trafficking) to 145 in 2015 (103 of those sex trafficking).
In Northern Virginia there is one detective assigned to human trafficking. "It takes so much time to work one of these cases and it hasn't been a priority," he said. They can be hard to prove "and law enforcement can't arrest and interdict everyone. We're doing a good job with what we have but so much goes undetected."
Sex traffickers pick up teenagers as young as 12 years old at malls, by infiltrating local high schools or recruiting online, Woolf said. The process of scouting and manipulation is gradual and often the victims don't know what is happening until they are trapped.
For his efforts Woolf was named 2012 Gang Investigator of the Year by the Virginia Gang Investigations Association and received the Virginia Attorney General's Award for Excellence.
Former U.S. Rep. Frank Wolf worked with Woolf on gang issues when Wolf was chairman of the House of Representatives Appropriations Subcommittee on Commerce-State Justice. "Detective Woolf took on very tough issues head on and really made a difference," Wolf said. "His passion, drive and courage have been on display every day."
Woolf's human trafficking work had been funded by a two-year Department of Justice Federal grant to establish a task force on human trafficking. The grant had been extended from Sept. 30 but expires April 1 and the Federal funds run out. The police department has agreed to absorb and fund the position.
Woolf will be transferred to child exploitation and the county will approve a full-time position to replace the task force that will be filled with a different detective.
Taking over Human Trafficking investigative duties will be Detective John Spata, said Ed O'Carroll, director of FCPD Public Affairs Bureau. "Detectives Woolf and Spata are working together on the upcoming transition to ensure that the change is seamless," O'Carroll said.
If community members have something to report suspected concerning human trafficking, they should call 703-691-2131. The responding police officers can forward a case to Spata, who can be reached at 703-246-7800.