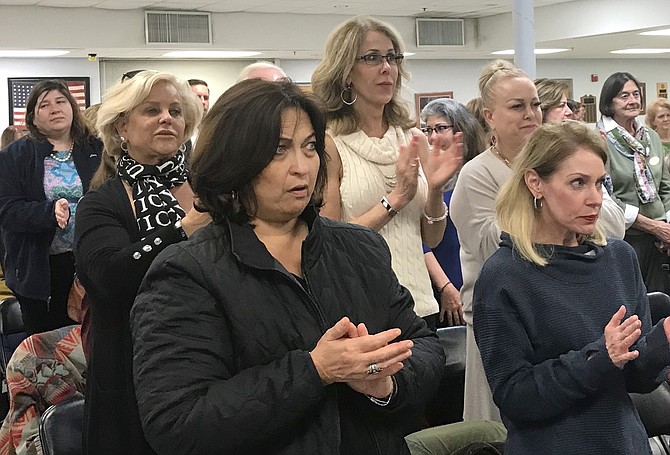 "No one would think we have a human trafficking problem in this region, but we do," said Sheriff Stacey Ann Kincaid at the start of the three-person panel discussion, "Human Trafficking in Our Neighborhoods, What it Looks Like and How to Stop It." Presented Oct. 16 at the Vienna Fire Station by The Vienna Woman's Club and Just Ask Prevention, the organization's Founder and Executive Director, Bill Woolf moderated the two-hour discussion.
During an interview before the program, Woolf described how Just Ask Prevention, a not-for-profit educational organization based in McLean, came about. Woolf said while he was still working in law enforcement he thought perhaps he could do a little prevention education alongside investigations. However, as programming grew, Woolf started to see the effectiveness of learning about human trafficking. Woolf said when one particular case impacted him, he knew it was time to move forward with educational programs as a means to end trafficking.
Woolf recalled a case where, unbeknownst to a teenaged girl, a trafficker was grooming the girl.
At the pivotal moment in grooming, when the trafficker was ready to exploit the teen, she happened to go to school and sit through a Just Ask program. Because of the program, the teen recognized what was happening. The program empowered the teen, and she told her parents that night she thought something bad was happening. They called law enforcement. The program prevented the teen from being exploited and stopped the insidious crime from happening. Police arrested the trafficker, who was then successfully prosecuted. Woolf said. "I remember her looking me in the face and saying, you have to be sure every teen in America goes through this program because, without it, I might not have been alive today." That conversation became the impetus for Just Ask.
MAYOR OF VIENNA Laurie A. DiRocco introduced Sheriff Kincaid, whose jurisdiction serves more than 1.1 million residents in Fairfax County, the City of Fairfax and the towns of Herndon and Vienna. Kincaid explained that Woolf's experience came from being an officer with the Fairfax County Police Department, where he worked on its Gang Investigative Unit.
"He quickly learned about human trafficking and exploitation in our area," Kincaid said. She added that Woolf's prior police experience and now, as Founder of Just Ask, was instrumental in bringing about awareness and prevention of human trafficking. "Certainly, the education portion… I think it is absolutely critical in today's world, especially with technology… which can be a catalyst for people veering off and going to areas such as the Dark Web."
"As Sheriff Kincaid mentioned, [human trafficking] is a problem…here in the Northern Virginia region. …It is a problem that is often hidden in plain sight. This is something we don't necessarily recognize or realize what's happening, literally right in front of our faces sometimes."
Woolf stressed the importance of reaching out to diverse groups. As an example, he spoke about a human trafficking education program where he spoke with inmates. Unexpectedly Woolf recalled, the most impactful session was not the one during which he spoke with the female inmates but the male inmates.
"So many said we see this on the streets. Now that we know what is really going on when we get out of here, we are going to make a change. We are going to protect our kids. That's really powerful to hear, that change that's happening, and that awareness of human trafficking." Just Ask Prevention has programming in 31 states and six countries according to Woolf. "This is really a testament to the effect of our program," he said.
Wolfe defined human trafficking: "It is compelling another person to engage in forced unfair labor or commercial sex …The targeted age for the commercial sex component is 14-16 years old. These are our teenagers. These are our kids that are being exploited in this illicit industry — being tricked by bad people that are willing to take advantage of them."
The first of the three panelists to speak was Susan Young Technical Advisor at Just Ask. She said that seven years ago, as a resident in Northern Virginia, life appeared on a normal path. Happily married and with four children, she discovered too late a trafficker had lured and victimized her 15-year old daughter. "It all seemed innocent enough, a few teenaged girls getting together before the start of high school. At the theatre, our daughter met a boy who was close in age and also lived in the area. He was handsome, polite and all seemed innocuous. They exchanged phone numbers and Facebook information."
Young described she later learned the boy was an MS-13 gang member, a recruiter who lured girls into human trafficking. Young said her daughter's behavior changed, "lying and stealing from us…distancing herself from previous close and trusted relationships." She saw us as not happy with who she was. "Little did we know the gang member was brainwashing our daughter…telling her we didn't love her, and she wasn't wanted at home."
The recruiter introduced Courtney to MS-13 gang members who bullied her. Eventually, the bullying turned to violence. Young said gang members took her daughter to a secluded place on school property, gang-raped her and videotaped it. If she told, they would share the video with family and friends "What family would want or love such a disgraceful daughter? My daughter would tell you, a piece of her died that day, which opened the door to shame and self-hate," said Young.
THE ABUSE continued. After school, gang members sold Courtney for sex. As she spiraled out of control, Young realized her daughter was living a secret life. Alerted to the danger Courtney was in, Young found her once only to have her seized again by the gang. Two weeks later, police intercepted a transaction at the local donut shop where Courtney was about to be sold to an out-of-state gang member.
When she saw her daughter at the police station, Young described her as a pale shadow of the daughter she once knew. The family checked Courtney into a hospital for help.
The terror continued as gang members retaliated against the family; they wanted Courtney back. A person tried to force their way into the family home. Gang members confronted Young and said if they couldn't have her older daughter, they would settle for her three-year-old daughter instead. "My eldest son was threatened and beaten at school to tell where his older sister was… Our family had been completely and utterly destroyed… Our boys were tortured and raped at gunpoint." Young said that her daughter later told her when she was victimized after school, traffickers took her to a house where 8-10 men raped her, then told her to go home and act as if nothing happened. Reviewing school records, Young found out Courtney reached out 22 times to the administration that took no action to remediate her requests.
After Young finished, Woolf said it never becomes easier for Young to tell her story. "I think it's important to paint that picture. So often we have this image of trafficking being something that only affects our foreign national population… That's not the reality." Woolf reported that 88 percent of trafficked individuals in the United States are U.S. citizens, with sex trafficking generating about $8 billion in the United States. The crime is increasing because people who used to deal in drugs have learned that human trafficking "is a higher yield, meaning they can make more money, and it is less risky. "
Young said it takes the community coming together to combat the issue of trafficking, engaging in the community to implement prevention.
Woolf met the second panelist, Dr. Megan F. Gerbracht, a licensed clinical psychologist from McLean, when she was involved with the NOVA Human Trafficking Initiative (NOVA HTI), a partner organization of Just Ask. Just Ask works on the front end of trafficking, NOVA HTI works to provide services to those who were victimized or recovered. Gerbracht worked closely with HTI case managers and providers coordinating outpatient medical care.
Gerbracht explained what it took to rehabilitate someone who has gone through trafficking and sustained trauma over a long period. "There is a real shift in one's foundation in complex trauma," said Gerbracht. Some of the women she worked with experienced flashbacks and panic attacks, which made it difficult to go to school or work. Their sleep is disturbed, and the ability to be back in relationships again with peers or with family is impacted.
According to Gerbracht, traffickers groom their potential victims and create sophisticated plans on how to control them whether they go missing or not. A trauma bond is formed. "They bank on that…in the beginning, there is the belief there is a love relationship quite often…later on, that gets mixed in with a great deal of physical violence as well as sex and intimacy; it all kind of swirls together." To the girl or woman, the relationship becomes extremely powerful. Victims don't feel like they want or can getaway. Besides, after being told they are not suitable for anything else, they believe it.
THE THIRD PANELIST, former U.S. Rep. Barbara Comstock, said when first in the statehouse, she sponsored a bill that if the victim was underage, she could not be charged with prostitution. "Fortunately, I was able to find people like Bill to work with and had victims who came forward and told their stories. We were able to change the laws both on the state level and later on the national level." Comstock reminded the audiences if they see something, say something. Ask your teen children where they are going, what they are doing, make sure things line up. It's motive and opportunity…You don't want to give them the first chance."
According to Young, while victims come from every ethnicity, race and socioeconomic group, "most traffickers will tell you they prefer middle to upper class… there's more money there… those individuals are more marketable, and they have more to lose." Traffickers look for three things: accessibility by scouting for young people to target; suggestibility by manipulating young people, buying them presents, offering jobs, pretending to be boyfriends or girlfriends; and vulnerability by tricking young people to control them, using false claims of love as well as drugs and violence.
Information for Teens and Adults
According to Woolf, the Federal Bureau of Investigation reported the average life span, after someone is drawn into an exploited scenario like human trafficking, is seven years.
For more information on what teens can do to protect themselves and their friends, what an individual can do if they think they are targeted and what parents and caretakers can do, visit, www.justaskprevention.org, call the National Trafficking Hotline 1-888-3737-888 or text "HELP" to BEFREE.
Just Ask is a U.S. registered 501(c)(3) not-for-profit educational organization based in McLean, focused on ending human trafficking in the United States and around the world through education, prevention, and intervention. The organization's mission is to end human trafficking and believe "that well-informed citizens will decrease sex traffickers' ability to operate in our area while ensuring that victims and survivors feel safe to come forward to ask for help."