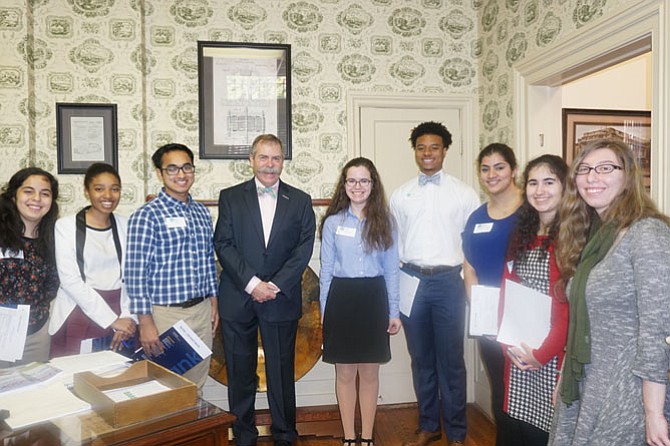 Virginia high school seniors from eight schools across the area spent March 16 at Burke & Herbert Bank as part of Bank Day, a statewide effort sponsored by the Virginia Bankers Association (VBA) Education Foundation and the Virginia Bankers Association Leadership Division. The purpose of the day is to expose students to the banking industry and provide an opportunity for the students to learn about banking, financial services and the vital role a bank plays in its community.
From their experience, participating students will write an essay for the chance to win a scholarship. Six regional scholarships of $2,500 each will be awarded, and from those six winners an overall statewide winner will be chosen. The statewide winner will receive an additional $5,000 scholarship and receive $7,500 in total. There will also be six honorable mention scholarships of $1,000 each. In all, 12 students will receive scholarships totaling $26,000.
During their visit, the students visited with lenders to learn about the loan process, the importance of good credit, and the profile of a qualified borrower. They toured a branch and learned about the daily functions of a branch manager. They learned about Burke &Herbert Bank's involvement in the community and the importance of a bank in the vitality of its local community. Chairman & Chief Executive Officer E. Hunt Burke shared his experience and a few stories with the students from the Bank's 163-year local history.