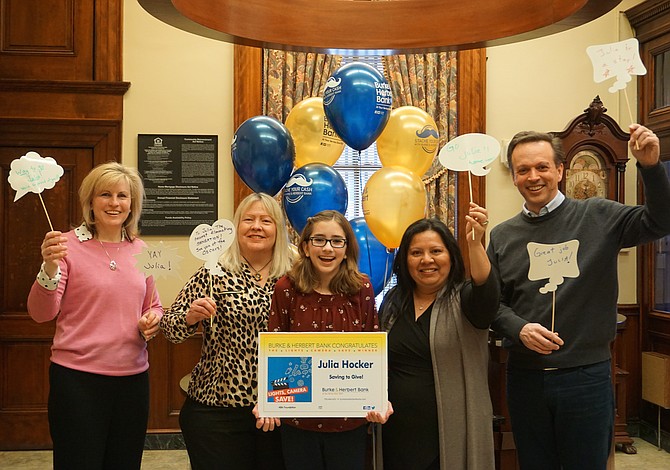 Julia Hocker, a home-schooled eighth grade student in Arlington, representing Burke & Herbert Bank, won second place in the American Bankers Association Foundation's Lights, Camera, Save! national video contest. The announcement was made recently in a video broadcast via the ABA's YouTube channel.
Burke & Herbert Bank was one of 131 bank participants who hosted local levels of the competition and selected a winner to represent their bank and compete on the national level. Julia's video, "Saving to Give" was recognized for its creative approach to communicating the value of saving in order to help others.

"It is so important for teens to learn the value of saving and using money wisely, and this video contest provides a fun and unique way to do that – with messaging created by students for students," said Terry Cole, Burke & Herbert Bank executive vice president. "Julia's video takes a unique approach — showcasing how saving money can benefit others. It will inspire anyone who sees it to save and to give. We are thrilled for Julia and are proud to be a part of this major accomplishment," she added.
As the second place winner, Julia will receive a cash prize of $2,500 to fund her savings goal. Her mother and teacher, Michelle Hocker, will be awarded a scholarship to Jump$tart's National Educator Conference this fall in Washington, D.C. Earlier this month, Julia's video was voted the ABA Savers' Choice in a competition on social media. As the winner of this competition, Julia was awarded a GoPro camera to support her video work.
Lights, Camera, Save! is a competition that encourages youth to use video to communicate the value of saving and using money wisely to inspire their peers and others to become lifelong savers. For more on the contest, visit www.LightsCameraSave.com.
Burke & Herbert Bank, established in 1852, is the oldest bank in the Commonwealth of Virginia and the oldest continuously operating bank in the Washington, D.C. area. Burke & Herbert Bank is headquartered in Alexandria and operates 25 branches in Northern Virginia. Member FDIC
For more information, visit burkeandherbertbank.com.