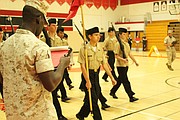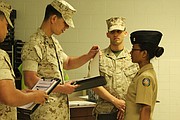 The cadets from the Navy Junior ROTC hosted a drill meet for area JROTC units to compete at Herndon High School in what turned out to be a successful event. The upperclassmen have spent months planning this event and coordinating hundreds of details while at the same time the freshmen and first year cadets have been practicing after school to compete in the event. Schools from Virginia and Maryland began arriving on April 23 while 15 active duty Marines from Helicopter Marine Squadron One (HMX 1), also converged on Herndon to perform the task of judging 11 teams from Navy, Marine and Army JROTC units.
HMX 1 was established Dec. 1, 1947 at Marine Base Quantico, Va., as an experimental unit tasked with testing and evaluating military helicopters when rotary wing flight was still in its infancy. Founded to test tactics, techniques, procedures and equipment, HMX-1 has become synonymous with helicopter transport of the President of the United States.
Each school fielded a team that performed armed drill, unarmed drill, color guard and uniform inspection. The Marines judged each event to exacting standards and high levels of military bearing for which Marines are famous. The final event was a "Drill Knock Out" in which Marines call out drill commands while cadets with drill rifles are required to respond immediately without flaw. Any mistake or delay results in the cadet being cut until the best of the best remain. The three top cadets won medals for enduring an almost unending string of commands that shook many into mistakes.
The closing ceremony included the awarding of trophies for overall best school, best in each category of drill and the cadet with the most impressive command voice also won a medal. Cadets and their families had a fun and exciting day watching each other perform after months of practice and determination.

Herndon High's Navy Junior ROTC is for anyone interested in real leadership experiences, teamwork, and/or high-level competition. There is no military commitment. To learn more about this program, contact David Adler, Captain, USN (retired) at 703-755-5710 or dbadler@fcps.edu.