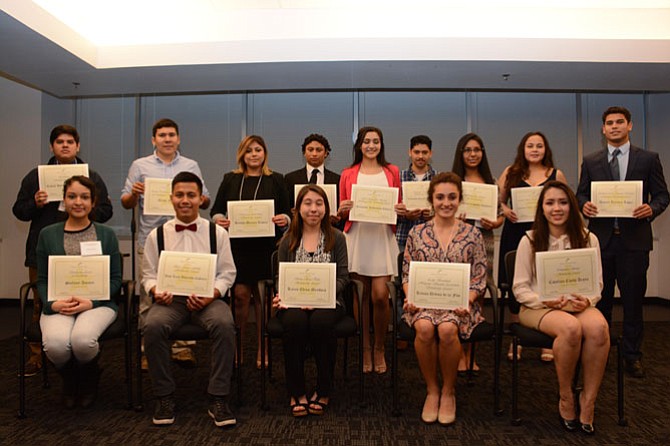 West Springfield High School senior Fernanda Justiniano-Rivero fought back tears as she thanked her mother for everything. "She worked three jobs, barely raised me, would come home and be so tired," Justiniano-Rivero said. "But she still would bring me gifts, ask me if I did my homework. I used to pretend we would travel the world and it be just us, I would live in a fairy tale."
When Justiniano-Rivero graduates in June, she will be the first in her family to attend a post-high school institution, a feat she and 13 other Fairfax County seniors were recognized for at the school system's Gatehouse Road headquarters in Falls Church on May 9.
For the 11th year, the Hispanic Leadership Alliance awarded scholarships to highly motivated and successful Latin American students whose "dreams are simple, but profound," said Alliance president Jane Cruz.
"The students told powerful stories of childhood and adolescent trauma, and detailed how they had overcome the effects of it," Cruz said of the 38 application essays her organization received from 18 schools around the county. "Their stories were more poignant and more heart-wrenching than in previous years, showing the empowerment that comes from self-motivation, from a deep understanding of their worlds."
"I hope to travel to developing countries and help other people who can't help themselves," said Falls Church High School senior Katherine Cespedes Escalera, who received the Engineering Scholarship. "My parents helped me and I want to help other people."
Escalera plans to study engineering at George Mason University in the fall.
Herndon High School senior Diego Flores wants to help other people through his love of science as well. After spraining a ligament in his knee and undergoing reconstructive surgery, he was inspired to pursue physical therapy as a vocation.
"This is a really great moment," Flores said, "that gives us more hope we can achieve, that more of the work is paying off."
Marvin Figueroa, senior policy advisor for U.S. Sen. Mark Warner (D), gave a keynote speech explaining how his family moved to the Bronx, New York City from his native Honduras. He wanted to work to help support the family, but his mother told him he had a different objective.
"My contribution to the house would be I was the first college graduate," Figueroa said. And he did, earning a scholarship to Vanderbilt University and then completing a master's degree at Harvard.
"My story is our story," said Figueroa. "Please continue moving forward."
Fairfax County School Board members Dalia Palchik (Providence) and Sandy Evans (Mason) also attended the awards banquet.
Palchik herself was tearful hearing the students' stories. "They're so driven, so caring, so grateful," she said, "to their teachers and parents, who work really, really hard."
With all the obstacles students face, Palchik continued, it's difficult not to give up. "So many people do. It's great we highlight what's going well, it's lovely to celebrate."
Mount Vernon High School senior Rosemary Morataya Grimaldi came to the United States with her family when she was 10.
"These are the blessings that inspire you to keep going, to get up in the morning even if you went to bed at three," she said. "To show my parents their sacrifices were worth it; their efforts are worth so much, are so valuable, so we can get higher education and be successful."