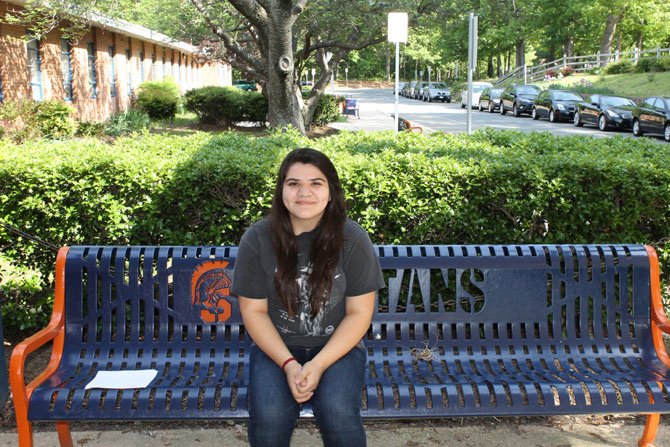 When Natalia Rivero Nogales graduates in a month from West Springfield High School, she plans on majoring in psychology so she can become a counselor and help people, something that she says is her goal in life.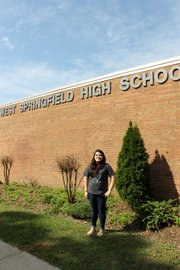 It's this dedication and enthusiasm that made Nogales a more than qualified candidate for a $1,000 scholarship from the Fairfax County Hispanic Leadership Alliance.
"The scholarship is a wonderful recognition of her participation in the Hispanic Heritage Club," said Susan Lampazzi, a Spanish teacher at West Springfield High School. "Natalia was a student in my Spanish class during her freshman year. She was a good student and she enjoyed learning Spanish. She still enjoys speaking Spanish with her friends."
Nogales, a Springfield resident, was honored with the other Fairfax County winners at a banquet featuring Superintendent Karen Garza on May 7.
Every year, the Hispanic Leadership Alliance, an organization within Fairfax County Public Schools that promotes understanding of Hispanic culture, awards exceptional students who demonstrate leadership with scholarships. The students are often the first in their families to attend a post-secondary institution.
Nogales is Bolivian and moved to the United States in 2000. Her family celebrates Bolivian holidays, and continues to recognize their heritage.
The pride Nogales feels for her culture is evident through her participation in activities such as International Culture Night and Spartan fest.
"For example, she was excited to tell people all about the Hispanic food that she helped sell at Spartanfest," Lampazzi said.
Because her parents worked hard but regret not finishing college, Nogales is determined to complete her degree. She plans on attending NOVA for two years and then transferring to Virginia Commonwealth University.
"This way I am saving money," Nogales said.
She says her parents have been very supportive and have always encouraged her to attend college.
"As a culture, we are so caring," Nogales said. "We love everyone. Right now, an aunt is staying with me and my parents just love her."
Besides her brother, who is attending college in Bolivia, Nogales will be the first in her family to attend college. She is excited to earn her degree so she can begin helping others by being a therapist.
Nogales describes herself as outgoing, kind, nice and talkative. In addition to the Hispanic Heritage Club, she is involved with Interact Club, a community service organization.
"I am so grateful to the Hispanic Heritage Club for pushing me towards this opportunity," Nogales said. "No one hides their culture here at West Springfield, and I am grateful for that."