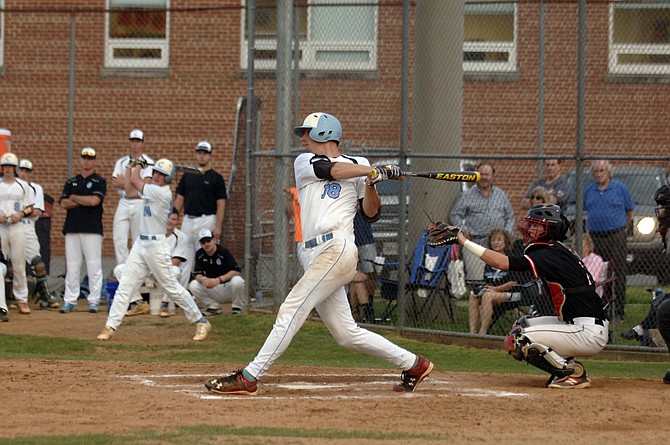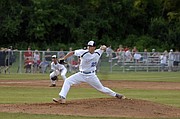 After a reporter made a request to Centreville baseball coach Scott Findley to have senior Carter Bach and junior Carter Egbers hang around for postgame interviews, Findley eventually called out for "Carter One, Carter Two."
When asked which player is "Carter One," Findley said he didn't know. When Bach and Egbers were asked, however, the response was much more decisive.
"I'm 'One.' I'm older," said Bach, who will play for Wake Forest. "Make sure that's in there."
Bach was quick to point out his seniority after Friday's 6A North region quarterfinal matchup with Madison. During the game, however, Bach and Egbers each put forth a performance worthy of "Carter One" status.
Egbers threw a two-hit shutout, Bach went 3-for-4 with a home run and four RBIs and Centreville upset the defending state champion Warhawks 6-0 at Madison High School. The Wildcats secured a trip to the region semifinals and will travel to face Battlefield at 7 p.m. on Tuesday, May 31.
Bach gave Centreville a 1-0 lead with a two-out RBI single in the top of the first inning. That's all the run support Egbers would need.
Egbers blanked a Madison team that entered the game with a 20-3 record, having won 15 of its last 16 contests. The left-hander allowed two hits --- both singles --- walked two batters and struck out 10 in seven innings. He allowed only one runner to reach third base.
Egbers threw 102 pitches, including 64 strikes, and tossed a first-pitch strike to 14 of 24 batters he faced.
It was the first time Madison had been shut out since May 8, 2015 --- a span of 33 games. The Warhawks entered Friday's action averaging more than seven runs per game this season, though Madison won each of its previous two contests, including a victory over McLean in the Conference 6 championship game, by a score of 1-0.
"He mixed his pitches very well against a really tough-hitting team," said Findley, a 2002 Madison High School graduate. "… They're great hitters and [Madison head coach] Pudge [Gjormand] does a great job with their hitters, so that's hats off to [Egbers] because … that doesn't happen very often. I'm very proud of him."
How much of an impact did getting an early lead have on Egbers' confidence?
"That was huge," he said. "Having a one-run lead going into a game is just absolutely phenomenal. You can really pitch with confidence. You can just get on top and you don't have to worry as much because if they get a hit, it's not the end of the world. It's a lot easier and a lot better as a pitcher."
While Egbers was shutting down Madison on the mound, Bach was tearing up Warhawk pitching in the batter's box.
Bach smashed the first pitch of his sixth-inning at-bat over the fence in left-center field for a solo home run, extending the Centreville lead to 3-0. It also chased Madison starting pitcher Noz Honda from the game.
"We were kind of dying down a little bit, so the home run really boosted everyone up," Bach said. "All the fans got into it; all the players were into it. They were all yelling real loud. You see that going on and it kind of pumps everyone else up, like they're getting in the box ready to hit. If everyone else is hitting, then they will, as well."
After a sacrifice fly by shortstop Ryan Brusick gave Centreville a 4-0 lead in the seventh inning, Bach struck a final blow for the Wildcats when he delivered a two-run single to center.
Findley said Bach, who played first base Friday, will be the starting pitcher in Tuesday's region semifinal game. Bach was a first-team all-region selection as a pitcher.
"He's our workhorse, he's our … bell cow," Findley said about Bach. "He's going to get the ball on Tuesday whoever we're playing. [His teammates] all respond to him. They respect him. They react to whatever he does."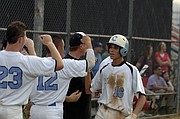 Sophomore left fielder Cristian Sanchez also had a big night for Centreville. A part-time starter, Sanchez hit leadoff for the Wildcats and went 3-for-4 with a pair of doubles, including a shot off the left-field fence in the third.
Sanchez led off the game with a double to deep center and came around to score the game's first run on Bach's RBI single.
"He did fantastic," Findley said. "That's a big moment for a sophomore to step in and come out of the gate and smoke a double and do what he did. I'm really happy with progress."
Centreville right fielder Alex Simmons went 1-for-3 and drove in a run with a single in the third.
Catcher Cameron Edwards and designated hitter Steven Kirk each had a hit for Centreville.
Honda suffered the loss for Madison. The senior right-hander allowed three earned runs and six hits in 5 1/3 innings. He walked none and struck out six.
Second baseman Kyle Novak and shortstop/pitcher Pete Nielsen each had a hit for Madison.
Centreville, the No. 2 seed from Conference 5, is one win shy of making its first state tournament appearance in more than a decade.
"We brought energy from the beginning and there was no real fear," Findley said. "We're not supposed to be here. Why not us?"