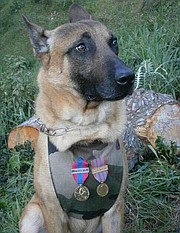 The November 2015 terrorist attacks in Paris left 137 dead and more than 368 injured. One of those victims was Diesel, a 7-year-old Belgian Malinos police dog for RAID, France's anti-terrorist police unit.
As tributes poured in from around the world, the Alexandria Police Foundation decided to do something more to honor the decorated police K9.
"The original mission of our foundation was to care for Alexandria's retired police dogs," said APF board president Willem Polack. "So we wanted to find a way to honor Diesel's service."
On May 17, Polack was joined by Police Chief Earl Cook as members of the APF board visited the French Embassy to present a K9 protective vest to the French National Police in honor of Diesel.
Polak and Cook presented the ballistic vest by Armor Express of Central Lake, Mich., to Pierre-Edouard Colliex, Police and Homeland Security Attache to the Embassy of France.
Diesel, an explosives detection K9, was killed Nov. 18, 2015, by a suicide bomber as she entered an apartment in Saint-Denis, a Paris suburb, during the investigation of the Paris shootings by ISIS terrorists. Diesel was a member of the French National Police anti-terror unit known as RAID — Recherche (Research), Assistance, Intervention and Dissuasion. Five police officers were also injured in the raid.
For more information, visit www.alexandriapolicefoundation.org.