The name of Capt. Humbert Roque "Rocky" Versace is among the more than 58,000 soldiers memorialized on the Vietnam Veterans Memorial Wall in Washington, D.C. The Medal of Honor recipient is one of 67 Alexandrians who gave their lives during the Vietnam conflict and the Friends of Rocky Versace organization is working to put a face to each of those veterans.
As part of the Faces Never Forgotten national campaign of the Vietnam Veterans Memorial Fund, organizers are hoping to locate photos of 13 Alexandria veterans that are among the 20,000 of America's fallen from Vietnam without identifying photos.
"We're making some progress," said Kevin Rue, a member of the Friends of Rocky Versace. "At the beginning of this effort, we were missing photos of 22 Alexandria veterans. But there are still 13 names that we want to account for and hope the public will help us."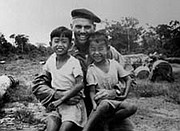 "We need the public to help us remember the service and sacrifice of these men."
— Kevin Rue, Friends of Rocky Versace
The 13 missing photos of Alexandria veterans represents one-fifth of the men whose names are carved into stone at the Captain Rocky Versace Plaza and Vietnam Veterans Memorial in Del Ray.
The Friends of Rocky Versace is asking the public to search through yearbooks, family photo albums and newspapers in an effort to locate photos of those still unidentified.
Photos of the fallen will appear online at VVMF's Wall of Faces as well as on permanent display at the future Education Center at The Wall.

"We need the public to help us remember the service and sacrifice of these men," Rue said. "Perhaps a journalism or history class wants to take this on as a research project. We're asking people to do a little detective work to track down the families of these 13 men and obtain a photo."
Photos can be emailed to the Friends of Rocky Versace at FoRV59@gmail.com or uploaded directly to VVMF's website.
On Monday, the Friends of Rocky Versace will host a Memorial Day ceremony at 11 a.m. at the plaza, located at the Mount Vernon Recreation Center at 2701 Commonwealth Ave. Miss Virginia Savannah Lane, whose twin sister Hailey is a cadet at the Air Force Academy, will be on hand to sing the National Anthem and God Bless America.
"We invite everyone to join us as we remember and honor the sacrifice of Rocky and all Alexandria veterans," Rue said. "We can't let these men be forgotten."
Photos Needed for These Vietnam Veterans
Pvt. Ross Willard Collins Jr., USA
Sgt. Robert w. Dean, USA
Sgt. James Wheeler Dickey, USA
Pfc. Bernard Guy Dillenseger, USA
Cpl. Thomas Mark Gaither, USA
Pfc. Darrell Lee Gibbons, USMC

WO Bruce Elliot Graham, USA
Sgt. James Edward King, USA
SP4 Johnny Jerome Smith, USA
Pvt. Jeron Franklin Valentine, USA
SFC David James Warczak, USA
Pfc. Raymond Leroy Williams, USA
Maj. Carl L. Young, USA
Anyone who has information on these men should contact the Friends of Rocky Versace at FoRV59@gmail.com.