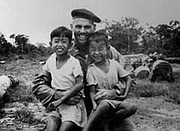 The name Humbert R. Versace is inscribed on Panel 01E, Row 033 of the Vietnam Veterans Memorial in Washington. But in his hometown, "Rocky" Versace's sacrifice and that of 66 other Alexandrians is memorialized in a statue on Commonwealth Avenue in Del Ray.
The Captain Rocky Versace Plaza and Vietnam Veterans' Memorial, located in front of the Mount Vernon Recreation Center, was made possible through the efforts of the Friends of Rocky Versace Memorial Association and dedicated just days before Versace was posthumously awarded the Medal of Honor for his heroics in July of 2002.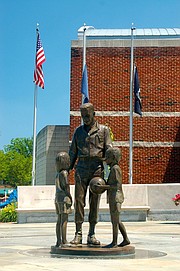 The organization, which will be holding its traditional Memorial Day wreath-laying ceremony on May 25, is now spearheading efforts to help the Vietnam Veterans Memorial Fund put a face with each of the 58,300 names on "The Wall" and is seeking help in locating photos of 20 Alexandria veterans.
"We've come a long way in obtaining photos since the dedication of the Versace Plaza in July, 2002," said Mike Faber, founder and chief organizer of the Friends of Rocky Versace. "But we seem to have come to a dead end trying to locate these last 20 pictures."
Help Identify Them
Photos are being sought for the 20 Alexandria Vietnam veterans listed below:
PVT Ross Willard Collins Jr. (Army)
Sgt Robert William Dean (Army)
Sgt James Wheeler Dickey (Army)
PFC Bernard Guy J. Dillenseger (Army)
LCpl Richard Holt Freudenthal (Marine Corps)
CPL Thomas Hart Gaither (Army)
PFC Darrell Lee Gibbons (Marine Corps)
Cpl Wayne Lamont Jordan (Marine Corps)
Sgt James Edward King (Army)
SP4 David Atwood Lerner (Army)
PFC Kevin C. McElhannon Jr. (Army)
SSG Clarence M. Overbay Jr. (Army)
PFC Harry Frazier Richardson Jr. (Army)
AO2 Joseph Clarence Shartzer (Navy)
SP4 Johnny Jerome Smith (Army)
1LT Lewis Lynn Stone
Sgt Charles Lee Suthard Jr. (Marine Corps)
SP4 Matthew Winston Thornton (Army)
PVT Jeron Franklin Valentine (Army)
SFC David James Warczak (Army SF)
PFC Raymond Leroy Williams (Army)
MAJ Carl Louis Young (Army)
To date, VVMF has collected more than 38,000 photos but more than 20,000 are still missing. A photo of U.S. Army Warrant Officer Raymond Conway was recently located but 20 Alexandrians are still unaccounted for in the database. That number is nearly one-third of the 67 men whose names are chiseled into stone at the city's own Vietnam Memorial.
The Friends of Rocky Versace are asking people to search through yearbooks, family photo albums and newspapers to help find photos of these men.

The photos of the fallen will appear online at VVMF's Wall of Faces (www.vvmf.org/wall-of-faces) as well as on permanent display at the future Education Center at The Wall.
"We're calling upon everyone to help us remember the service and sacrifice of those in their communities," said VVMF founder and president Jan Scruggs. "Sometimes there are no living relatives. We're asking people to do a little detective work. We can't let these service members and their sacrifice be forgotten."
Photos can be uploaded directly to VVMF's website or via mail. For details on how to submit a photo, visit www.vvmf.org/how-to-submit.
The Friends of Rocky Versace Memorial Day ceremony will include the recitation of the names of Alexandria's 67 Vietnam War fallen heroes, the reading of Versace's Medal of Honor citation and a wreath-laying by Versace's West Point 1959 classmates. For more information, email FoRV59@gmail.com.