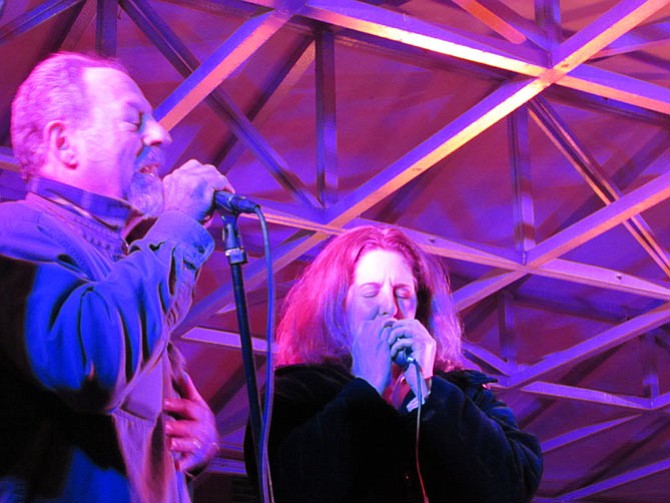 After hosting more than 40 films and as many filmmakers over a four-day weekend, in three locations, the Alexandria Film Festival closed out its 10th year on Sunday, Nov. 13.

Opening night on Market Square kicked off with the screening of "Nighthawks on the Blue Highway" with filmmaker Michael Streissguth and followed by a live performance by "The Nighthawks," the blues band profiled in the film. In a not-soon-to-be-forgotten moment, Mayor Allison Silberberg jammed with the band, playing the classic "Mess Around" with band member Mark Wenner. The evening was sponsored by Elizabeth Lucchesi and the LizLuke Team.
Friday's line-up at Beatley Library featured a series of films focusing on veterans to honor the holiday. "Charlie and Sam" featured 97-year old Charlie Edwards, World War II aviator, who was on hand to take questions from the audience.
At Saturday's "Foodie Showcase," attendees feasted on "The Culture of Collards," "50 Years of Farming: For Love and Vegetables," Food Frontiers," and "Tea in the Land of Thunder."
Sunday's programming began with the award-winning short by local student filmmaker, Jackson Harvey, "A Squirrel's Guide to Saving," and ended with a preview of the second season of the PBS hit drama "Mercy Street," to air on WETA on Jan. 22. Executive producer of the series, Lisa Wolfinger and Audrey Davis, director of the Alexandria Black History Museum, were on hand to take questions.

2016 Festival honors included: Best of Fest Award – "Girl Flu," by Dorie Barton; Special Jury Award – "The Sand Box," by Jennifer Kramer; Audience Award – "The Ken Burns Effect," by Tia Shuyler; and Best Foreign Language Film Award "The Whole World," by Julian Quintanilla.