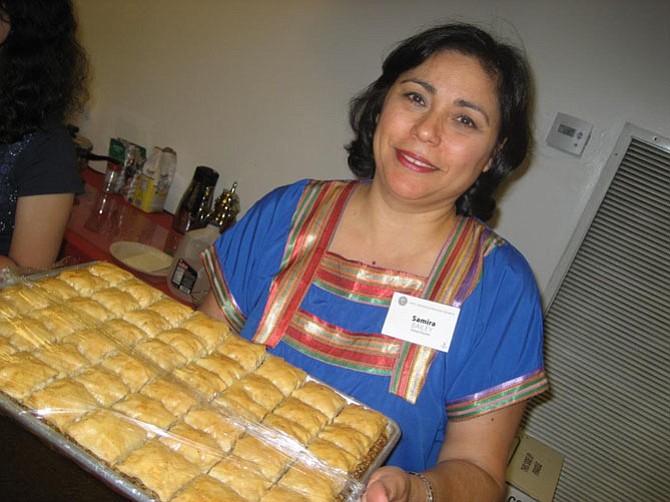 McLean — For most Americans, Labor Day weekend closes the door on summer's activities. It invites folks to ramp up the backyard grill for one last warm-weather feast. But if you live in the metro area, Labor Day weekend can send another powerful message: time to eat at the Middle Eastern Food Festival in McLean.
Sponsored by the Festival at McLean's Holy Transfiguration Melkite-Greek Catholic Church and hosted as an area family favorite, the festival is celebrating 24 years of bringing the Middle East cultures and foods together to celebrate life and brotherhood. This year the festival begins on Saturday, Sept. 2 at 11 a.m. and will run from midday on Sunday until early evening. During that time, one parishioner estimated that about 3,000 people would attend. And besides fun and frolic, the very main attraction is…food, and lots of it.
What's on the menu? Just about every sweet and savory treat that embellishes a Middle Eastern feast table, from a splendid roast lamb dinner with rice, fattoush, and pita bread; a kibbeh platter with ground beef mixed with cracked wheat; shwarma sandwich with lamb and beef; falafel, or vegetable burger, with much more on offer such as a meat or spinach pie. But for all who have a sweet tooth, (and who doesn't?), the busiest part of the food line will likely be the dessert display, probably with more than 16,000 pieces ready for eating or taking home. The tempting Arabic sweets available include baklawa in many flavors and numerous types of other pastries. (Note: "baklawa" is a general term that describes a variety of filo-dough sweets originating in Syria, Lebanon, Jordan, and Egypt.)
Overseeing the summer festival baking is Samira Bailey, but her very active fellow parishioner, Lani Kanakry, pitches in to help get all the sweets baked as well as overseeing the fall festival.
A member of Holy Transfiguration since 1974, Kanakry helps solicit volunteers to join in with the assembling and baking of the countless goodies, and she is often on hand to help oversee the making and packaging of it all. "Some people are very good at making certain cookies," she said, "so if someone is good, I assign her to oversee that day of baking."
The ladies start baking in June, she said, and it is not just the sweets that get assembled. "We also prepare the kibbeh, eggplant dishes, and more," she said. But it is the 10 to 12 different varieties of baklava that really requires all-hands-on-deck, she said, including chocolate and hazelnut, and these may be shaped in squares or "nests." After assembling the baklava, the ladies tightly seal the trays, and freeze them. "Samira and I will bake them the beginning of the week of the festival," she said.
Fortunately, Kanakry truly loves her parish baking tasks, explaining that when she readies for the Fall Middle Eastern Sweets Sale (in time for Christmas), her shopping lists include 300 pounds of butter, 300 pounds of sugar, 250 pounds of flour, and 150 pounds of pistachios.
Whether you have a sweet tooth or just crave delectable Middle Eastern cooking, be sure to attend the festival over Labor Day weekend. The Middle Eastern Food Festival is held Saturday, Sept. 2, 11 a.m. – 11 p.m.and Sunday, Sept. 3, Noon – 6 p.m. Admission and parking are free. Holy Transfiguration Melkite Greek Catholic Church, 8501 Lewinsville Road, McLean. To learn more, visit www.middleeasternfoodfestival.com or call 703-734-9566.
Baklava
The pastry of the gods! Unlike Greek baklava, Middle Eastern baklava is topped with a mellow butter/sugar syrup instead of honey. Served with a cup of unsweetened Turkish coffee, you will think you've traveled to heaven and back! No calories here! This recipe is published in "T'faddalouh…Welcome to our Table," a cookbook of Middle Eastern food compiled by Holy Transfiguration parishioner Nikki Haddad, and available for purchase at the festival at the Holy Transfiguration bookstore booth.
Makes 40 to 50 pieces
2 lbs. phyllo pastry dough
2 lbs. (8 cups) English walnuts, coarsely ground
3 cups unsalted butter, melted
¾ cup sugar
2 Tbls mazaher (orange blossom water)
Syrup (attar):
2 ½ cups sugar
1 ½ cups water
½ tsp lemon juice
1 tsp mazaher
Butter a 13x7 baking pan. Place 1 pound of dough in pan, brushing butter between each sheet. Do not butter top sheet. Spread nut filling evenly on last layer. Place second pound of dough over nut filling, brushing butter over baklava. Bake in preheated 350-degree Fahrenheit oven for 15 minutes; reduce heat to 325F and bake for another 45 minutes. Pour cold attar over hot baklava and allow dessert to cool before cutting. When ready, cut straight lines vertically from one end of the pan to the other, then cut crosswise into diamonds. There will be small corners that are imperfect pieces, but fear not! Those are the coveted pieces, as the excess butter and syrup tend to gather there and these morsels will literally melt in your mouth!

Tips:
*Keep dough covered with a damp cloth or plastic while buttering layers to prevent it from drying out.
You must use BUTTER with FRESH NUTS (no substitutes) for this recipe to be authentic and melt-in-your-mouth good.
*Baklava can be made into various shapes and filled with different nuts – pistachios, cashews or almonds can be ground coarse and replace walnuts