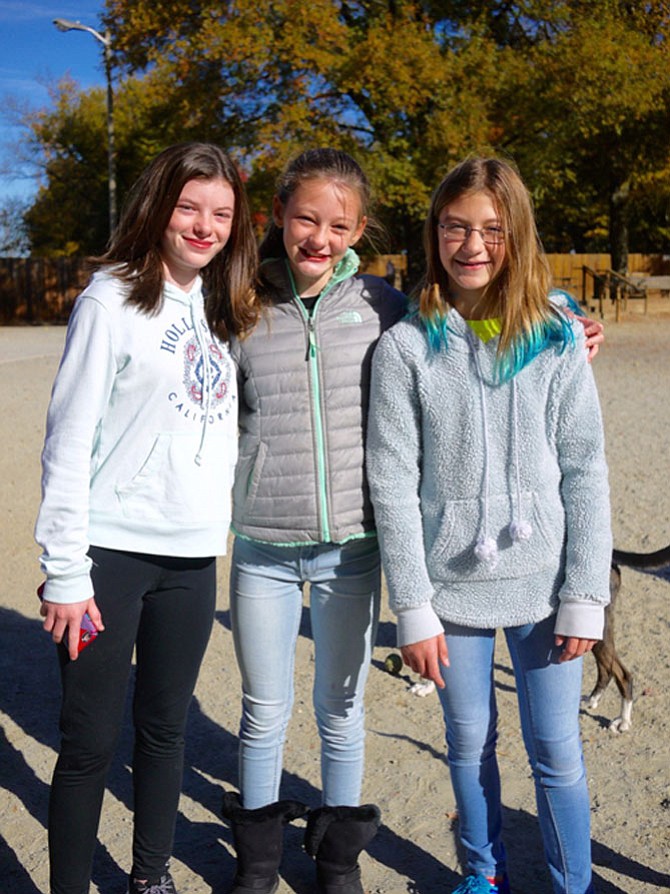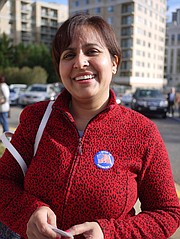 They can't vote yet, but when they can, there are three young Arlington residents who are going to know what their candidates stand for and fill in their ballots accordingly. Rachel Clark (13), and her sister, Caroline (11) and their friend Michaeline Becknell (11), were all interested in the outcome of this year's election.
As she stood near the Madison Polling Station with her dog, Rachel commented that the election, in her view, was getting out of control. Her sister Caroline said, "At school, I had to do a project on carbon emissions and climate change. I think Hillary Clinton is probably going to win because she wants clean energy sources, and she has a better attitude. He (Trump) wants to encourage fossil fuels in order to get more jobs. Plus, she (Clinton) can negotiate deals with others and has more experience."
Michaeline was even more clear in her preference: "I don't want Trump to win because he'll send my friends back to Mexico. I have a lot of Latino friends. And I don't want to go to war with other countries. I've read about our soldiers over there and the terrible wounds they get." All three girls were excited about the possibility of having a president who is a woman. Their mother said she was about to vote and would probably vote Democratic this year despite being a Republican. Clark said her 85-year-old uncle had just voted in Texas, for Trump, because he wanted to build a wall to keep immigrants out: he cast his vote and came home and died two hours later. It was that important to him.
David Tate was a first time precinct captain for the 35th precinct. He said he had been at the Madison polling station since 5 a.m. and would be there until 7 p.m. He greeted the voters, handing out sample Democratic ballots to assist with, in particular, the trickier questions of Right to Work and bonds. He said he used to be a Republican, but switched when the U.S. invaded Iraq: that made him look hard at the Republican platform, record, and ideology, and when he did, he realized he was more a Democrat than a Republican. He's never looked back.
Gloria Albrittain came to the polls and was greeted by GOP greeter Bettie Lorino; Lorino said she has been engaged for a long time in supporting the election process. She remembers the polling station back in her home town of Chattanooga, Tenn. was in their garage. There would be coffee and cake and people would come to talk about the election and cast their votes. She greeted Géneviève Dargouth, a first-time voter who recently received citizenship and registered right away: she said in a French accent, taking the Democratic sample ballot in her hand and winking: "I think Virginia needs my vote, non?"