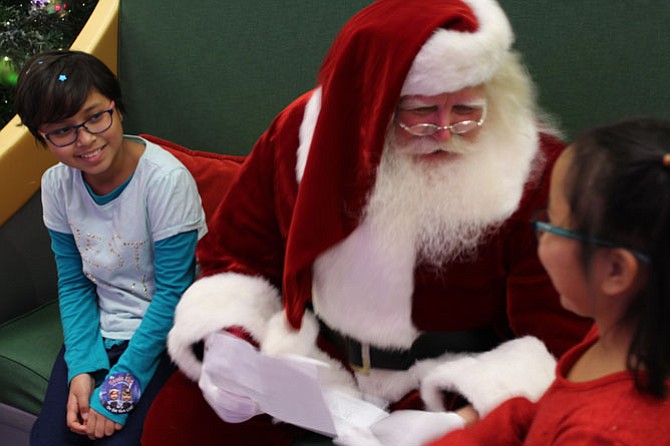 McLean — Service members and their families were the first to see Santa Claus at his new workshop in McLean.
Tysons Corner Center's Santa HQ, by television station HGTV, opened in the mall on Veterans Day. As a thank you to military families, service members were invited to bring their kids to see Santa at a private event the night before it opened.
"What better way to say thank you to those who have served and our military families than to bring them Santa Claus?" says Becca Willcox, spokeswoman for Tysons Corner Center. "We're lucky to have him here so early."
Photo packages with Santa Claus start at $34.99, but military families received complimentary photographs during the two-hour event.
"It's the most festive way we could think of to say thank you for their tireless sacrifice for our country," says Willcox.
Families from all over northern Virginia came to see the big guy.
"Santa HQ reached out to us and donated this time slot free for our families," says Joseph Alotto, a spokesman for the Wounded Warrior Project, a national nonprofit organization that provides programs, services and events for wounded veterans of the military.
"We try and reach out to not only veterans, but also family members," says Alotto. "We're about bringing the family together, especially around Veterans Day."
Army Staff Sgt. Amie McClintic and her daughter Faith McClintic, 7, were one of the first people in line to see Santa.
"I try and look for family-oriented events so Faith can interact with other military kids," says McClintic. Between her and her two brothers, they have been deployed six times to Kuwait and Iraq.
While Faith was on Santa's lap, she asked him for a bracelet. She was very specific in asking for a Grace's Bracelet for Girls by American Girl.
Little did she know that her wish would come true so soon.
She and her mother had to come back through the line when they realized that their photo did not print correctly. Like magic, Santa had the bracelet for her when she came back to retake the photo.
Santa HQ features interactive technology that is integrated into the experience. Children are "scanned" as they arrive to determine if they've been "naughty or nice" and enter an observatory where they can use touch-screen tablet computers to view hidden elements of Santa's magical world and take "ELFIES," an elf selfie.

Participants were encouraged to bring unwrapped and unopened toys to donate to Homestretch, a nonprofit in Falls Church that works with housing insecure families that are at risk of homelessness. The toy drive is part of Tysons Corner Center's Help Through Holiday Giving campaign, which has a goal of gathering and distributing 1,000 toys for needy families.