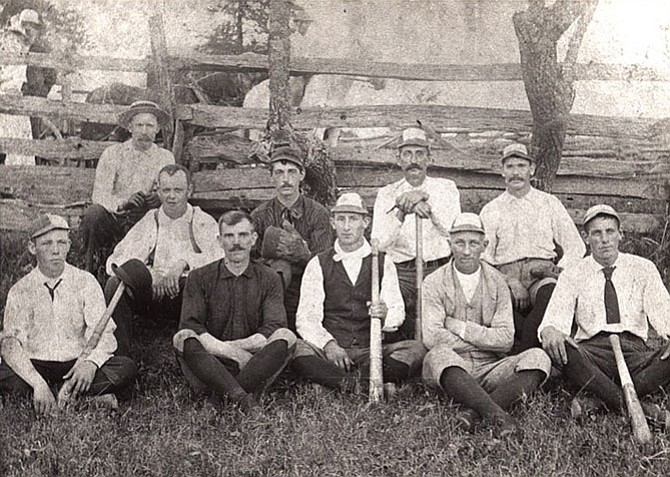 Great Falls — At this time of year when family and relatives unite for that uniquely American holiday, Thanksgiving, it is not unusual to dig into the past to see how we all looked and felt and thought in the old days!
Really old pictures stir up some interesting feelings: They seem really familiar as they may seem more connected with "nature," but also really unfamiliar, as the dress and facial expressions may seem different than what we are used to. (Did you ever wonder when people discovered that they needed to smile or "say cheese" when they had their picture taken?)
Take a look at the local 1890 Baseball Team, for example. The team was lined up in front of a fence that may have held their horses while they played. Four guys had bats, one or two guys had gloves, most seemed to be wearing riding boots. At least five were wearing the same type of baseball cap, apparently to show they were on the same team. (1890s Baseball Team, The N.F. Bradford, Sr. Collection, copyright Great Falls Historical Society).
WHO WERE THESE GUYS? Many have last names that we still recognize today. The 1890s Baseball Team included, from left to right, (front row) Neal Johnson, Tom Dickey, Walter Follin, Page Sanders, and Sidney Follin Sr., and (back row) Albert Cornwell, Howard Cunningham, Joe Money, George Gunnell, and Harvey B. Cornwell. They came from families that owned farms in the area that we now know as Great Falls that may have ranged from 10 acres to over 1,100 acres. The automobile had not arrived yet, so they needed to get together by horse or by foot.
Here is our invitation and our challenge to you: Please pick one player that you would like to know more about. (You can look up the 1860s historical map that is overlaid over today's map to find out which team member might have lived on the land where you live today.) Let us know which player's research team you would like to be on – or form your own team.
Here is the research challenge: Can you make that 1890s player come alive through research? Where did the baseball player live? Who were the members of his family? What did his family do for a living? What was his life like in a typical week? What kind of education did he have? How did he travel to meet his friends for a game of baseball?
GFHS will introduce you to others who are interested in working on the same research with you, if you would like. Or you can join a team of others with the same interest. Your team can meet once a week to report on progress and share what you have found, or you can set up your own schedule.
Each team is invited to share the results of your research in an engaging manner: An engaging video? A re-enactment? A compelling display?
The deadline for submission of the final work on each of the ten 1890s Baseball Players is Monday, Feb.15. The results will be presented at our March Program on Wednesday, March 9. Participants will also be invited to present the results of their research work and presentation to entire community at Great Falls Day in early May, 2017.
Prizes will be awarded to the team that does the most thorough research on their players and who does the best job of making the 1890s baseball player come alive through an engaging presentation.
TO JOIN or form a research team focusing on one of the players, please let us know about your interest by emailing The 1890s Baseball Team Committee at www.gfhsva22066@outlook.com or by calling Sondra Taylor at 703-759-6204.
We are looking forward to learning about these baseball players who are part of our local past.