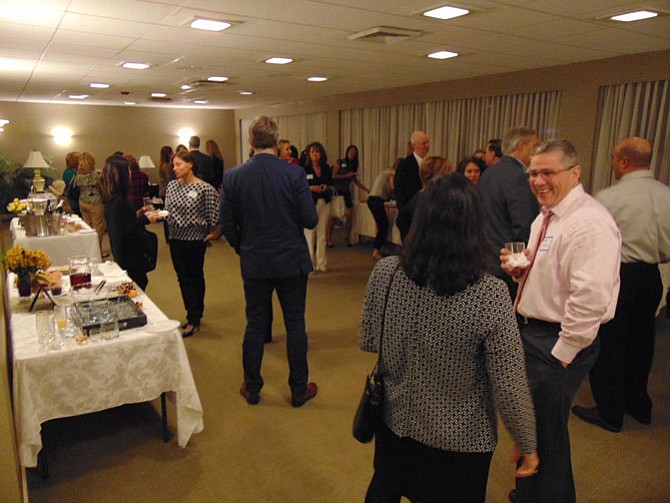 McLean — The New Dominion Women's Club of McLean held its annual Cocktails for a Crowd fundraising event on Thursday, Nov. 17, 2016, at the Party Room in the McLean House in McLean to help kick off the holiday season. Cocktails paired with heavy hors d'oeuvres were set up at different stations around the room where people could sample drinks like Manhattans, Bellinis, Grape Fruitinis and Garden Gimlets. Some of the hors d'oeuvres included jerk chicken, beef sliders, ham biscuits and chicken and waffles.
"The idea was to sample small amounts of many different types of cocktails and take home recipes," said Mary Ann Miller, Vice President of Programs for the New Dominion Women's Club. "We hope to continue building our support for the McLean community through fun social events."
"My involvement with NDWC has been life-changing; I really enjoy this diverse group of ladies where we have so much fun while raising money to support our community," said Paige Farrington-Himes, VP Resource Allocation with NDWC.
Guests paid $60 to attend the fundraiser, which benefits local McLean charities. Some of the charities the club has helped in the past include: SHARE, Inc. of McLean, Claude Moore Farm, McLean Project for the Arts, and the Safe Community Coalition.
The Cocktails for a Crowd event was co-chaired by Monica Gibson Roncskevitz, Mary Ann Miller, and Christy Murry, and assisted by Karen Martins, Sherri Hiele and Carrie Salaway.
For more information on the club, visit www.ndwc.org.