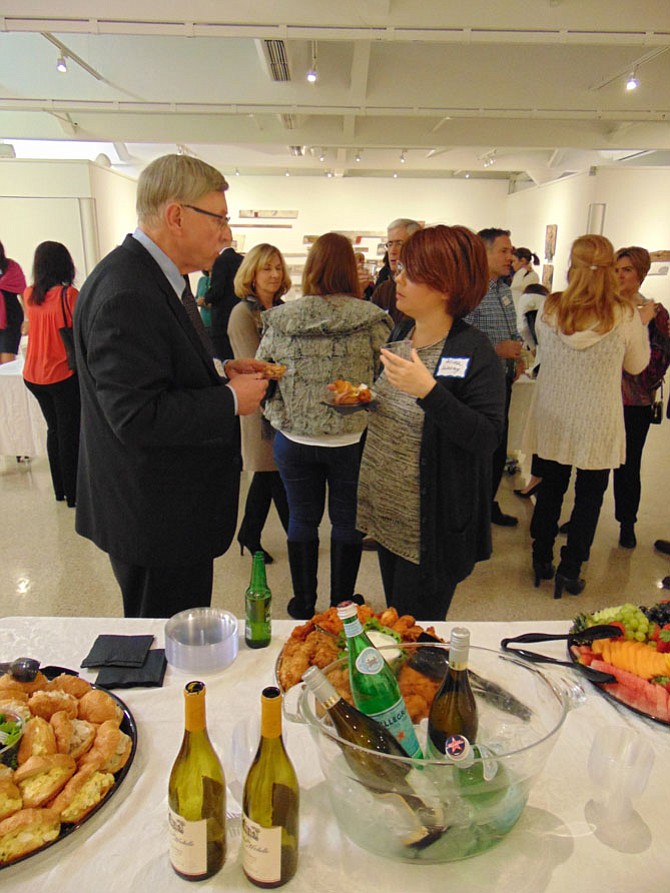 More than 50 people attended the Arts Night Out on Thursday, Jan. 26, hosted by the New Dominion Women's Club (NDWC) and the McLean Project for the Arts (MPA) at the McLean Community Center on Ingleside Avenue. The event was a fundraiser for NDWC and included a gallery talk by Nancy Sausser, MPA's Exhibitions Director, who spoke about the artwork and artists on exhibit at MPA. The mission of the MPA is to exhibit the work of emerging and established artists from the mid-Atlantic region.
There was also a Silent Auction at the event as well as wine and beer provided by TTR Sotheby's International Real Estate, and hors d'oeuvres provided by Giant Food Store. The money raised with the $20 tickets benefit four of NDWC's charities, which include McLean Project for the Arts, Safe Community Coalition, SHARE, Inc., and Pleasant Grove Church.
"I'm proud to be chairing this event for NDWC," said Amy Swaak, event chairperson. "Having served in many different capacities for this organization, this is very fulfilling to be raising funds for these fabulous organizations."
For more information on NDWC, visit its website at www.ndwc.org.