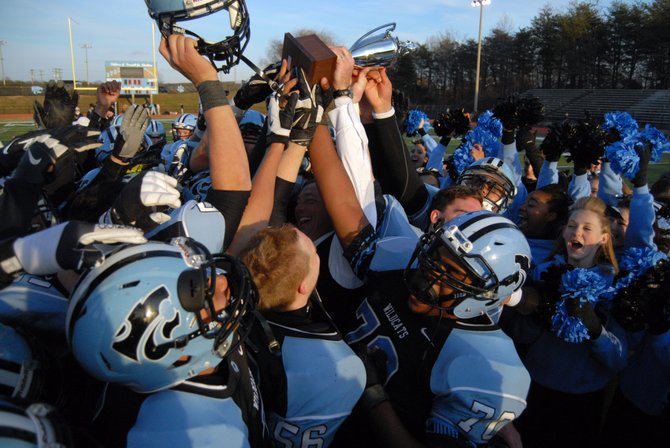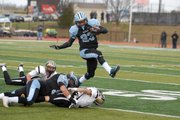 Centreville senior quarterback Scott Walter stood on his home field Saturday afternoon and discussed the Wildcats' 2011 trip to Charlottesville, when they lost to Oscar Smith in the big-school state championship game.
"I think we goofed off too much two years ago," said Walter, who traveled with the team as a sophomore but wasn't a starter. "We weren't locking in like we needed to against that caliber of a team."
On Saturday, Walter, now in his second season as Centreville's starting signal caller, helped the Wildcats earn another shot at a state title.
Centreville defeated Westfield 35-14 in the 6A North region championship game on Dec. 7 at Centreville High School. The undefeated Wildcats will travel to face undefeated Oscar Smith, ranked No. 8 in the nation by USA Today, in the VHSL 6A state championship game on Saturday, Dec. 14 at the University of Virginia's Scott Stadium. Kickoff is scheduled for 4:07 p.m.
"We need to lock in right from when we leave this school to go down to Charlottesville," Walter said, "and we need to get this done."
Before Centreville could focus on Oscar Smith, the Wildcats had to turn their attention to a Westfield team they defeated 28-0 during the regular season. Centreville led 14-7 at halftime and extended its lead to 14 points on a 25-yard touchdown run by Walter on a fourth-and-1 play with 8:36 remaining in the third quarter. After forcing a turnover on downs, Centreville drove into Westfield territory and faced second-and-9 at the Bulldogs 45-yard line. Walter threw a quick pass to his left to junior A.J. Turner, who raced 45 yards down the sideline for a touchdown and a 28-7 Wildcat advantage.
Westfield answered on its next play from scrimmage with a 62-yard touchdown run by Evan Gray late in the third quarter, but the Bulldogs would get no closer. Centreville bled the clock in the fourth quarter and sealed the win with a 9-yard touchdown run by Turner.
"We know we've got our hands full. Oscar Smith is a nationally-ranked team. They're going to be the best team we play all year. Hopefully we're going to be the best team they've played all year."

--- Centreville football coach Chris Haddock
Turner said Centreville's season-ending loss to Oakton in the 2012 region semifinals assured the Wildcats would remain focused on the task at hand.
"I think the No. 1 thing was we remember last year, how we lost to Oakton, 14-13," Turner said. "That was a really sad moment for us and we knew next year it wasn't going to happen again."
Turner rushed 16 times for 93 yards and a touchdown and caught three passes for 60 yards and a score. Fullback Taylor Boose rushed for 74 yards and a touchdown.
Walter completed 7 of 11 passes for 107 yards and a touchdown. He also rushed for 102 yards and two scores.
"He (Walter) was excited for today, there was no doubt about it," Centreville head coach Chris Haddock said. "He's an experienced kid, he knows when to make checks, he knows when we want to audible and he's a heck of a player."
Centreville entered the game having beaten each of its first 13 opponents by at least 20 points, including a 52-27 victory over Stonewall Jackson in the region semifinals. Westfield had two losses, including a 28-0 regular-season defeat against Centreville, and needed an improbable comeback to beat Lake Braddock 19-16 in the other the region semifinal matchup. The Bulldogs trailed 16-3 with less than six minutes left in the fourth quarter when Lake Braddock lined up to attempt a 30-yard field goal. Westfield blocked the kick and safety James Gibson returned it 92 yards for a touchdown. The Bulldogs followed with a defensive stop and scored the tying touchdown and go-ahead extra point with 15 seconds remaining.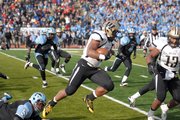 "They had a little magic going last week with their win against Lake Braddock," Haddock said, "so we were concerned that they might have a little bit of that still."
Westfield showed no signs of "magic" against Centreville early in the first half as the Wildcats jumped out to a 14-0 lead. Boose scored on a 9-yard run with 5:20 remaining in the first quarter and Walter scored on a 2-yard sneak early in the second quarter. Westfield's initial first down came with about four minutes left in the second quarter.
Westfield running back Gray carried 18 times for 124 yards and two touchdowns.
Saturday marked Westfield's third consecutive trip to the region final. Each year, the Bulldogs came up short.
"I know they didn't give up, I'm really proud of them for that," Westfield head coach Kyle Simmons said about the Bulldogs. "We just didn't seem to have enough bullets in the gun for a very strong Centreville team. I kept waiting for them to make a mistake and they made very few, so that made it really difficult for us.
"… I read about [Westfield losing multiple region championship games] a lot and people mention it, but how can you feel down about playing your 40th game in three years? That's pretty cool. I'm proud of the program, I'm proud to be part of it. I don't like losing and I don't like losing this game, but if I get here every single year and lose, that's still a pretty good accomplishment for our football program."
Centreville took care of business against Westfield. Next challenge: trying to win the program's first state title since 2000 by beating Oscar Smith.
"We know we've got our hands full," Haddock said. "Oscar Smith is a nationally-ranked team. They're going to be the best team we play all year. Hopefully we're going to be the best team they've played all year. I think the two best teams in the state are going to meet and that's I think what everybody wants --- the last two undefeated teams --- and I think it's going to be a great ball game."