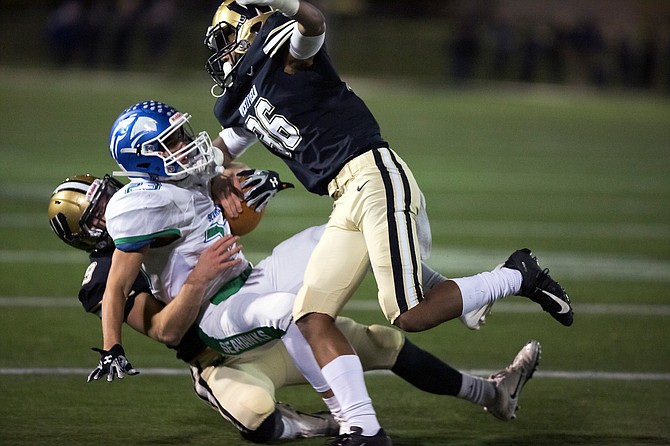 The South Lakes Seahawks (9-2) travelled to Chantilly to take on the Westfield Bulldogs (11-0) in a second round playoff game, the winner advancing to the Regional Finals to take on the winner of Madison- Centreville. The Seahawks and Bulldogs are not strangers to meeting in the postseason. Westfield has defeated South Lakes three consecutive seasons. In 2015 they defeated the Seahawks 24-13 in the second round, in 2016 they convincingly beat them 42-12 in the regional final, and in 2017 they bested the Seahawks 27-7 in the regional semifinal.
A scoreless first quarter was probably what most had envisioned prior to the start of the game.
In the second quarter Sean Goodman would take a Noah Kim pass into the end zone from 6 yards out. Following a successful Riley Nugent extra point, Westfield took the lead with 9:54 to play before halftime. oah Kim would then throw his second touchdown pass of the game when he hit Taylor Morin from 10 yards out. Riley Nugent was again successful on the PAT and Westfield was beginning to put some separation between the two teams.
Westfield took a 21-0 advantage with 7:34 to play in the quarter when Eugene Asante ran in from 10 yards out. Riley Nugent was again successful on the PAT.
In the fourth quarter, Taylor Morin scored his second touchdown of the game when he beat Donovan White and raced in for a 26-yard touchdown reception. Riley Nugent converted again on the extra point, and Westfield led 28-0 with 8:03 in the game. With 3:20 to play in the game South Lakes James rushed in from about 15 yards out for what would be their only score. Alex Robles converted on the extra point to pull the Seahawks to within 28-7. However, a Isaiah Daniel's 29 yard rushing touchdown and another extra point by Nugent just a little over a minute later gave Westfield the final margin for a 35-7 win.
With the win, the Bulldogs advance to the regional finals. On Saturday Nov. 24 at 1 p.m., they will host Madison (10-2), who defeated the Centreville Wildcats (9-3), 20-10. South Lakes ends their season at (9-3). Westfield was led by Noah Kim who completed 14-16 for 3 TDs and 157 yards. Taylor Morin caught 7 passes for 82 yards and 2 TDs. Morin also had an interception in the first quarter. Ryan Moses also had a interception. Isaiah Daniel rushed for 189 yards on 20 carries and scored another TD. Sean Goodman and Eugene Asante each had a rushing touchdown for the Bulldogs. South Lakes was led by James Earl who ran 17 times for 82 yards and a TD. Joseph Dagbe rushed for 45 yards on 5 carries and had 8 catches for 74 yards. South Lakes QB Will Shapiro completed 14 of 21 passes for 118 yards and an interception.