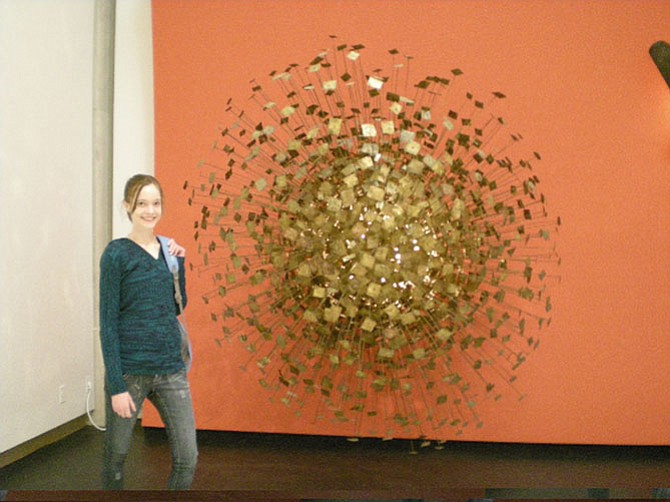 For Mary Jane and Dan McCann, losing their 16-year-old daughter Annie was a personal catastrophe.
"This unholy journey we're on now," Dan McCann said, is like "our own twin towers."
Annie McCann was a junior at West Potomac High School when she was last seen by her parents, early on the morning of Halloween, Oct. 31, 2008.
Two days later, Annie was found dead in Baltimore, poisoned to death with lidocaine, a numbing medication.
Years later, the McCanns are still looking for answers.
"We just have to keep clawing away, clawing away, clawing away for information," Mary Jane McCann said. "It's amazing we could get out of bed and put one foot in front of the other. If it weren't for our faith in God, we wouldn't be here."
Baltimore police investigated Annie's death and offered the theory that she committed suicide by drinking the antiseptic Bactine, which she had a bottle of for cleaning pierced ears.
Annie also left a note in her room, saying, "Life is too short." She took a lot of money, clothes, and the car she had been driving to school.
"The runaway note, your jaw drops, first plane," Dan McCann said. Then after learning of Annie's death: "Your whole world is destroyed, OK?"
McCann's parents describe their daughter as artistic, funny, a high-achieving student beginning to come into her own.
"She's the funniest person I ever met," said Dan McCann. "I didn't expect that from my daughter, no."
Though they initially went along with Baltimore police, the McCanns began to believe the case was much more complex than it was being treated.
But after struggling to obtain Annie's official autopsy report and having it reviewed by forensic pathologist Dr. Michael Baden in October 2009, "It crystallized for us," Dan McCann said. "It would've been impossible for Annie to kill herself using Bactine. At that point, we were starting to think, 'It looks like she was murdered.'"
The medical report showed more than 22 bruises and abrasions to Annie McCann.
Over time, the McCanns parents came to the painful conclusion that their daughter was sodomized and brutalized before being poisoned to death with lidocaine, and the lidocaine did not come from Bactine.
This was not the finding of Baltimore police, nor the FBI, which McCanns say confirmed BPD's findings.
"They did harm, actual harm, to us, by rubber-stamping a shoddy investigation," Dan McCann said. "You can well document, Annie was seen happy, animated, unbruised, tasting, sampling cannolis in Little Italy Baltimore. Hours later, she's battered, brutalized, with poison in her stomach. I don't see how you can connect those dots in any way but homicide."
For months, the McCanns reached out to U.S. Sen. Charles Grassley (R-Iowa), head of the Senate Judiciary Committee. Grassley has previously engaged with Fairfax County in requesting information from Fairfax County Police regarding the shooting death of Springfield resident John Geer by Police Officer Adam Torres.
They made direct contact with Grassley's office in November 2015. By January, they had a meeting with senior counsel Jason Foster, they said. Then in March, Grassley wrote to FBI director James Comey, Jr., requesting information on the case from them.
Grassley followed that up with an Oct. 11 letter: "I requested non-redacted copies of all records related to the FBI's involvement in this case, including the recommendations list and the communications strategy document ... and all records relating to communications about the McCann case between or among FBI employees or BPD."
Grassley goes on to say he received "limited documentation" in response from the FBI, leading him to conclude "It is unclear whether the FBI even opened a criminal inquiry into this matter."
The congressman requested all non-redacted documents related to Annie's case and asked several additional questions, all of which he set an Oct. 25, 2016 deadline for.
Still searching for answers, the McCanns' lawyer recently reached out to Fairfax County Commonwealth's Attorney Ray Morrogh to explore the possibility of looking at the case from an angle of Annie being a victim of local human trafficking.
At a meeting with Morrogh's office at the beginning of November, the family handed over documents, theories and leads they've gathered with a private investigator.
"I agreed to look at them," Morrogh said. "It's a terribly sad case. They're obviously devastated. I want to do everything I can to help them."
Morrogh said he really doesn't have any jurisdiction over any potential murder in Baltimore, but human trafficking out of Fairfax County is something he could pursue.
If that view is confirmed, the question is does he see probable cause to assert jurisdiction.
"We just don't know yet," Morrogh said. "You want to help a grieving parent in a situation like this. We'll do everything we can to find some answers."