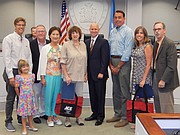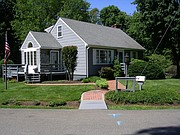 When it comes to homes, looks count – and three properties in the City of Fairfax were recently honored with Residential Appearance Awards. They were presented during the Sept. 13 City Council meeting by Kirk Holley, chairman of the Community Appearance Committee.
The winning properties belong to: Martin and Young Lockhard, 3827 Farrcroft Drive; Karen Marksteiner, 9937 Pinehurst Ave.; and Ricky and Christina Garris, 10900 Scott Drive. "These were the spring nominations, and they were professionally judged on four criteria," said Holley. The criteria were:
*Landscape design quality – balance, seasonal interest and appropriate for home and neighborhood;
*Residence and building quality – craftsmanship, materials and complementary to setting;
*Maintenance of landscape and building;
*Sense of place – unique, special character.
Holley told the Council that, "Among the many attractive properties in Farrcroft, the winning entry is a little more refined and has a strong street-presence. Bold colors and manicured plant forms contrast and complement the building."
As for the Pinehurst property, "This half-hidden gem in Country Club Hills attracted the judges due to its simplicity and natural setting," explained Holley. "This inviting, corner-lot property complements surrounding homes in the community. The street-side touches are nice, as are the maintained, mature plantings.
He noted that "Layered vegetation, a well-maintained home and splashes of annual color are all evident. And the home's simple, border fence with brick pillars topped with bouquets for community enjoyment [illustrate how such touches] can make a property distinctive."
Re the winning property on Scott Drive, Holley said the judges found this home "strikingly simple and clean, [with] tasteful and well-scaled additions. It is a well-maintained jewel in the neighborhood. We are impressed with the consistent use of color, scale and materials in the main cottage house, the addition [and] the outbuilding and deck area."
The judges further wrote that, "In this home, these features are well-integrated with the original building and lot. The entry features are simple and inviting; each element creates harmony with the entire property. The maintained mature plantings make this home feel "grounded. It is a cornerstone in the neighborhood and an excellent example of an appearance winner."
Craig Smith, co-owner of Twins Ace Hardware, gave $75 gift cards to each winning property owner. These residents will also display mountable plaques identifying their properties as 2016 Residential Appearance Award winners.