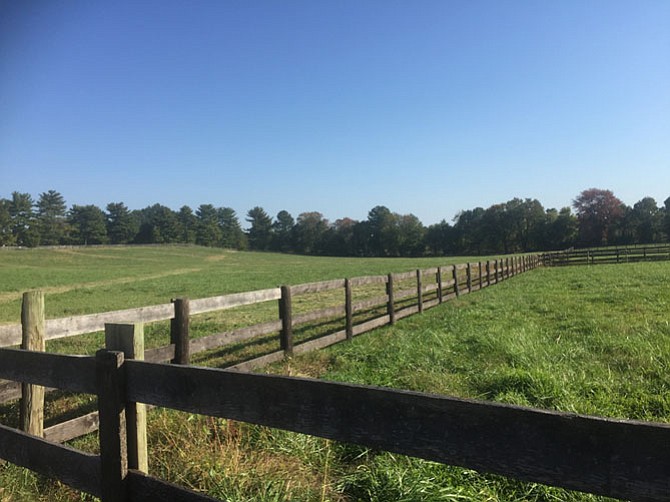 About 58 acres of scenic vista just north of the Great Falls Village Center will be preserved for the next eight years at 9809 Arnon Chapel Road.
"It represents one of the last large intact portions of former farmland that once characterized the area and is home to a well-loved horse boarding and riding facility, Stone Ridge Farm," said Dranesville District Planning Commissioner John Ulfelder.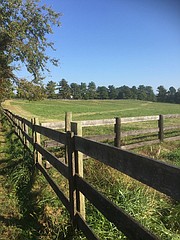 The Planning Commission voted unanimously Thursday, Sept. 29 to recommend approval of the eight-year request made by the Cajoll Company and the John W. Hanes III Settler Trust.
"The continuation of this A&F District will help preserve the rural agrarian character of this area of Fairfax County," said Ulfelder.
The Board of Supervisors is scheduled to hold a public hearing and make its ruling on Oct. 18, 2016.
"Beyond its physical attributes, the farm itself makes an incontestable contribution to the well being of the Great Falls Community. The combined properties provide scenic views of fields with horses, broken by hedgerows filled with natural wildlife that help to define the character of the community," according to the application filed by Lucy Masemer.
"Great blue herons, red shouldered hawks, mallards, orioles, and many other birds and wildlife can be found raising their young around the ponds and pastures within the properties," she wrote.
THE COUNTY offers reduced real estate tax assessments in exchange for a commitment to preserve "significant tracts of agricultural and forested land a commitment to preserve the land for the length of the term."
Since 1972 Stoneridge Farm has operated a horse boarding and riding facility on a 32-acre parcel, according to Planning Commission staff documents. Stoneridge farm received a special permit that was approved in August 1992, according to the documents, that limits the number of horses maintained on the site to 80. Currently, there are approximately 40 horses on the site.
Stoneridge Farm "plans to continue operating well into the future," according to Zoning Evaluation Division documents.
The agricultural and forestal district was originally established in 1983 on 66.82 acres of land.
GUNNELL'S RUN FARM, a family-owned residence/horse farm, also utilizes the land for equestrian activities and currently boards 15 horses on the property.
"The majority of the farm's land is primarily used as a pasture for the horses, except for a small portion of land allocated for a farmhouse and various fenced areas allocated for conservation purposes," according to Planning and Zoning documents. "Both Stoneridge Farm and Gunnell's Run Farm have continued to invest in significant improvements, providing firm evidence of their continued commitment for maintaining and furthering the agricultural uses of the properties."
The 58-acre property consists of four parcels located on the south side of Arnon Chapel Road; all surrounding properties are zoned Residential Estate and are developed with large-lot residential uses.
The land is located at the headwaters of a tributary of Mine Run Branch and is located within the Chesapeake Bay Preservation Area.
The subject property "may contain the slave cemetery associated with Gunnel's Run. Further investigation of this area by the Cultural Resource Management and Protection Branch of the Park Authority should be requested before ground disturbing activity takes place."