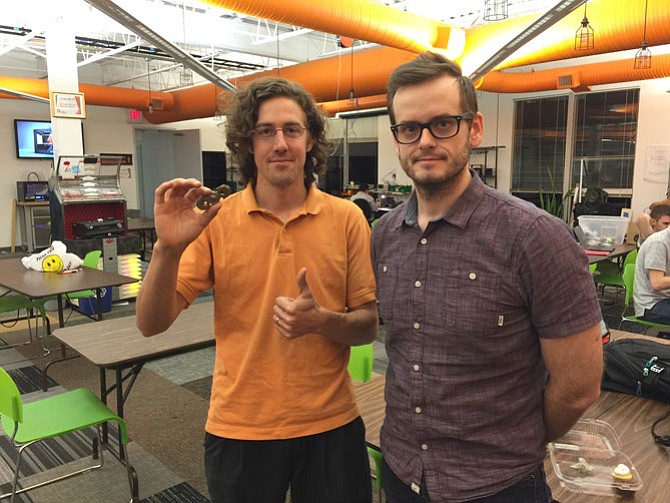 Mike Hogarty, owner of Hotrods 2 Hybrids joined with Callye Keen from Red Blue Collective to create Alpha, a new fidget toy. "I love high end CNC craftsmanship and the maker community inspires me," said Hogarty. Hogarty and Keen knew each other from earlier projects and connections with Nova Labs. Hogarty has designed custom products for performance vehicles including Ferrari and Lamborghini.
NOVA LABS is a membership-driven all-volunteer makerspace based in Reston, founded in 2011 with the purpose of empowering everyone to "rediscover the joy of making things." The facility at 1916 Isaac Newton Sq West houses classrooms, workspace, incubator offices and a shop that includes common tools and advanced fabrication equipment. Members enjoy 24-7 access and help co-manage the space by teaching classes, maintaining equipment, and promoting making in the community.
Callye Keen's start-up, Red Blue Collective, has helped provide solutions as entrepreneurs develop hardware products from concept to market. Hogarty worked with Keen to test it out in the collaborative environment at Nova Labs, along with access to prototyping tools and production equipment.
"After seeing spinning fidget toys, we wanted one. List after list closed. We realized how hard these things were to buy. Many were no longer available. We decided to make one and share it with the world," said Keen. With a shared love of making things, they created Alpha, a CNC machined functional sculpture. Callye and Mike decided to demonstrate how to go from an idea to launching a Kickstarter campaign, and in only 20 days.
ALPHA provides focus through fidgeting with aesthetics worthy of a CEO's desk. Focus could be prolonged attention on a singular task, reduction in stress, or a calming of anxiety. "Design is an exploration… we tested bearings, materials, and profiles to refine the design," said Hogarty. Mike Hoyer of Prototype Designs, a fellow Nova Labs member was instrumental in prototyping Alpha.
The Alpha Complete package is multi-functional allowing for passive fidgeting or active playing. The package contains a pocket top, acting as a gyroscopic battle top, and serving as hand spinning fidget. Alpha fits comfortably in the hand. A simple flick spins the toy between the fingers. Alpha replaces pen clicking and foot tapping with a silent outlet for fidgeting. The Kickstarter campaign was funded within 24 hours and by the second day it was overfunded by 200 percent. Revolve Makers is offering various reward levels with various metals and accessories. Approximately $28,847 was pledged of a $5,000 goal.
CNC machined bronze with options of stainless steel and titanium give the product a feel of quality that goes beyond expectation. Alpha is available for a limited time on Kickstarter. Proceeds from the campaign will help Mike Hogarty and Callye Keen build the Red Blue Collective to help entrepreneurs bring their products to market. A webpage which further describe their products is viewable at www.revolvemakers.com. In addition to being a meeting place for innovators and makers, Nova Labs hosts the annual NoVA Mini Maker Faire which is held in Reston. The date for the next event is to be March 19, 2017.