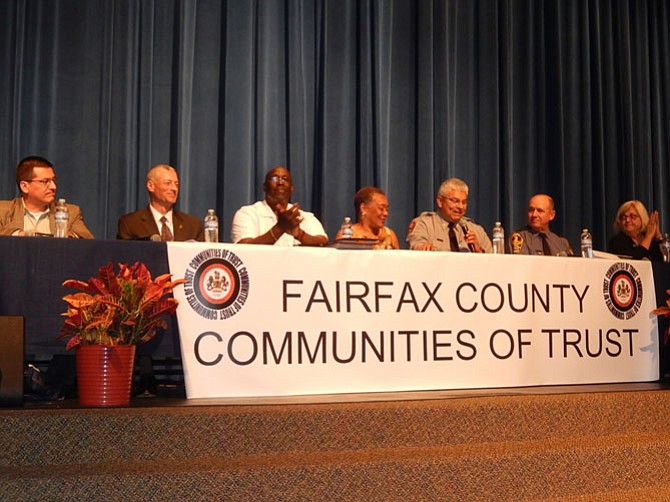 See more related photos on Facebook.
Most residents aren't even aware that Fairfax County has a Communities of Trust (COT) Committee. But it held a Town Hall Meeting last Saturday, Sept. 10, at Centreville Baptist Church with the theme, "Communities Working Together: Justice, Unity and Peace."
Comprised of residents, community leaders and public-safety personnel, COT was established by Board of Supervisors Chairman Sharon Bulova in the wake of events in Ferguson, Mo. Its members focus on strengthening and building positive relations between public-safety agencies and the people they serve.
"There'll be other meetings such as this, plus fun events throughout the community, where residents can meet and interact with law-enforcement and fire personnel," she said. "It's critical for us to be a healthy community and to know and trust the people who keep us safe."
"About five years ago, I began to hear concerns – especially from Sheila Coates with Black Women United – about black people not always being happy in Fairfax County," continued Bulova. "And we were also looking at how police respond to situations and to people with mental illnesses. So I reached out to her and Communities of Trust was created."
Noting this county's great diversity, she said it's "important to be aware of our racial and cultural differences." She also said that, next week, the supervisors will create an independent review board to examine how the police respond to incidents.
Supervisor John Cook (R-Braddock) is chairman of the board's Public Safety Committee. "The authority of law enforcement doesn't come from their weapons, but from the support and respect of the community," he said. "We're at a difficult time in the country where people are often asked to choose sides. But here, when we're successful as a county, it's because we work together."
And combined with COT and the county's Ad Hoc Police Practices Review Commission, said Cook, "That spirit will, I hope, make us a model for other communities in the nation. Our police chief is looking at policing in a more complete way, thinking about how to re-engineer the department for 21st-century policing."
He said this county is the safest jurisdiction of its size in the U.S., with "relatively little" violent crime. "But when someone is vulnerable, has an emotional difficulty, suffered a trauma or is upset about something, we want to give our officers the tools to deal with these things," said Cook. "So they'll be more understanding and residents can know that, when they call 911, the police can take a bad situation and, through dialogue, make it better."
COUNTY POLICE CHIEF Ed Roessler said the Police Department believes in "ethical leadership through engagement with the community." The goal is for police to be able to fight crime while maintaining a safe community where life is valued."
Seven of the COT's 33 members comprised a panel at Saturday's event. They shared their viewpoints and then received questions from those attending. Jorge Figueredo, executive director of Edu-Futuro – which empowers under-resourced Latinos through education – led things off.
"The first thing I learned when I came to this country was that I had a label – Hispanic," he said. "I was put into a box. But after more than 20 years here, it's wonderful that we're constantly learning about respect and opportunity. The immigrant community has to look for what unites us so scapegoats can go away and we can realize what's important."
In Edu-Futuro, said Figueredo, "We give children hope and make sure they go to school so they can join the workforce and be successful. My message today is that we are one community and are lucky to have the leadership we have in Fairfax County; we all need to work together."
Special Agent Keith Palli is with the FBI's Washington Field Office. He said the FBI uses its community outreach and civil rights programs to unite people. The community outreach programs are for teens and youth.
"We liaison with police and business owners about civil rights to understand what's going on in the community," said Palli. "But we need to get into minority communities to understand them better. And we want people to know they can report criminal activity to us."
The Rev. Milton Harding, former pastor at Centreville Baptist, said people first have to learn "how to engage one another before we can engage law enforcement. We have a human problem; take the information you get today and put it into practice."
COT Chairman Shirley Ginwright is president of the county's NAACP and works on the police Diversity Council. "We're trying to reach young people to respect themselves and law enforcement," she said. "And we established the [nonprofit] Public Safety Outreach Foundation through which we'll work with younger, at-risk kids in our communities."
A 27-YEAR MEMBER of the county Police Department, Major Rich Perez coordinates policy change for the police. "We reviewed our police use-of-force policies with the community and are re-engineering our academy training [accordingly] to preserve the sanctity of human life," he explained. "We also provide training on critical decision-making and crisis intervention, and we've worked with mental-health personnel to divert those people away from jail."
Lt. J-P. Koushel has spent 33 years with the Virginia State Police and said the troopers have five stations in Northern Virginia. "We have about 170 troopers when we're at full-strength," he said. "We have a diverse workforce from around the world, and about 33 percent of them represents the minority community."
"Most of our traffic stops are audio- and video-recorded, and we don't tolerate our officers mistreating the public," he continued. "We work hard to be fair and impartial, and our officers receive diversity training."
Claire Gastañaga, executive director of the Virginia American Civil Liberties Union (ACLU), said community responsibility comes first. She said Ferguson happened in great part because "There was a significant effort to deprive certain people of their civil rights." She also said fees and policing for profit also played into the problems.
"So we need to look at this," said Gastañaga. "We need accredited policing like Fairfax County just received. We also believe civilian engagement is also about civilian authority. And we disagree with police collection of license-plate data. Constitutional policing is more than just [whether] we trust and get along well with each other."
Also speaking was Officer Jonathan Keitz of the Sully District Station. He spoke from the perspective of a patrol officer out on the streets. "The majority of the time, our problems can be solved with communication and compassion," he said. "But it's not always easy."
"In a couple minutes, I have to determine if a stranger is going to be friendly, is the victim, or will hurt me," he said. "Our biggest challenge is trying to figure out your situation and if you actually need help, or mental help, and if the situation is actually happening. The people involved make it complicated."
But, said Keitz, "If things go bad, it's our job to remain communicative and compassionate. For that person, it may be the worst thing that's ever happened to them, and you have to figure it all out in only five minutes."
"Training is so important, and that's our gap in law enforcement throughout the nation," added Perez. "Here, Chief Roessler brought in police T3 training dealing with tact, tactics and trust, and that furthers the relationship between the community and Police Department."
The panel then received several questions from the audience on index cards, and before the meeting ended, they answered a few of them. One was about how to build trust, and Ginwright advised residents to "Get actively involved in the community and with what law enforcement is doing. Get to know them as people and keep interfacing and communicating with them, and help young people do this, too."