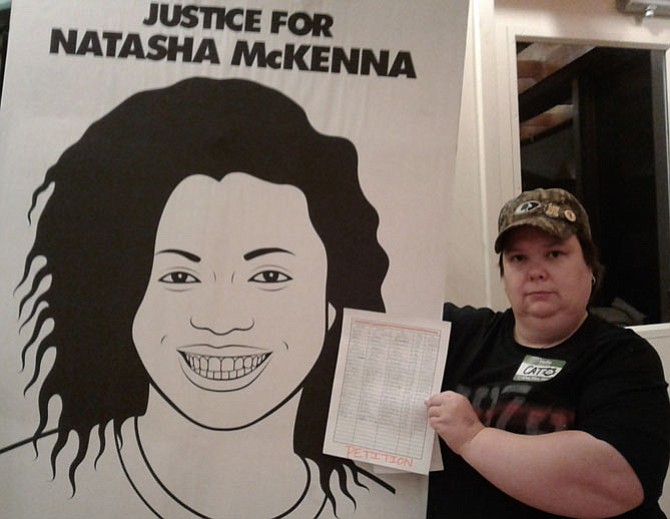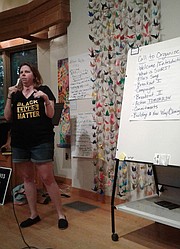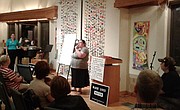 Northern Virginia residents rankled with indignation by white police officers shooting black men across the country have a safe place in Oakton to voice their opinion.
Nearly 60 people gathered Sunday evening at the Unitarian Universalist Congregation of Fairfax at 2709 Hunter Mill Road to learn how they can turn their outrage into action.
The crowd, who were mostly white, heard Fairfax County resident Cayce Utley, tell them about the racial justice organization that formed in 2008 after Americans voted their first black U.S. president into office.
At the time, she said, black activists noticed a resurgence of the white supremacy movement and turned to white community leaders to help to stanch its flow.
That is how Showing Up for Racial Justice began as part of the solution to a national problem that came to a boiling point last week with police officers shooting Alton Sterling, 37, in Louisiana July 5 and Philando Castile, 32, in Minnesota July 6. Their deaths were followed the next day by the mass shooting of five police officers in Texas, working at a protest.

Utley helped form the local chapter of SURJ last summer following the close of a U.S. Department of Justice investigation that cleared a white police officer in Ferguson, Missouri, of wrongdoing in the 2014 fatal shooting of Michael Brown — an unarmed 18-year-old black man.


Hundreds of Missouri residents and thousands of Americans across the country decried Brown's death and called for justice against racial profiling and the use of excessive force minorities have endured for decades.
"After Ferguson, I felt helpless," Utley said.
She spoke her mind through a chalk pen and her car windows. "I wrote Black Lives Matter all over my minivan," said the mother of four young children. It wasn't long before she became president of the newly-formed Northern Virginia chapter of SURJ.
THE AUDIENCE at the July 10 meeting were asked to gather into small groups to discuss what white people can do for racial justice.
"We need a really tremendous show of support," said Reston resident Arlene Krieger "with a tremendous white presence."
Krieger, 69, believes this show of solidarity was a key factor in the success of Rev. Martin Luther King, Jr.'s mission in the 1950s and '60s to end racial segregation and grant all American citizens their Constitutional right to vote through the Civil Rights Act of 1964.
"I'm from the '60s," she said and this week's events got her fired up so much she feels the need to answer the call to action.
Utley's husband, David, is encouraged by the show of people interested in discussing race relations at the meeting. He said SURJ will show local residents how to become white allies in the Black Lives Matter movement.
Instead of talking about recent cases of racial injustice elsewhere in the country, meeting leaders focused on their local agenda to call for an end to the police crackdown on illegal immigration in neighboring Prince William County — where Board of Supervisors chairman at large, Corey A. Stewart, started using law enforcement in 2007 to hand more than 4,300 alleged criminals over to the U.S. Immigration and Customs Enforcement, according to the county government website. That is more than 1 percent of the county's reported repopulation of 410,000 residents.

Another SURJ committee wants to disband the Confederacy and re-name J.E.B. Stuart High School in Falls Church. It also calls for a new name to local NFL team, the Washington Redskins.
In their final call to action, leaders asked for volunteers to help them protest Monday morning the 2015 killing of Natasha McKenna — a 37-year-old African American woman with schizophrenia and bipolar disorder who was fatally shocked four times with a stun gun by six sheriff's deputies in the Fairfax County Adult Detention Center.
Activists presented Fairfax County Sheriff Stacey A. Kincaid with a petition to fire the police officers who continue to work at the jail after following McKenna's death.
Sunday night, Cayce Utley asked why Fairfax County residents continue paying the salaries of jail employees responsible for McKenna's death.
"There's a lot of grief and fatigue in the black movement community," said Cayce Utley.
HER GROUP'S NEXT MEETING is at 10 a.m. July 23 at the Richard Byrd Library in Springfield, where guest speaker Autumn Saxton-Ross — an expert in public health, sociology and encouraging city residents to enjoy the great outdoors — will discuss race and racism in the parks and other recreational spaces. She is policy director for event co-sponsor Outdoor Afro, which encourages recreational activities in natural spaces for healthy living.
The library is at 7250 Commerce St.
For more information, on SURJ, go to www.surjnova.org.