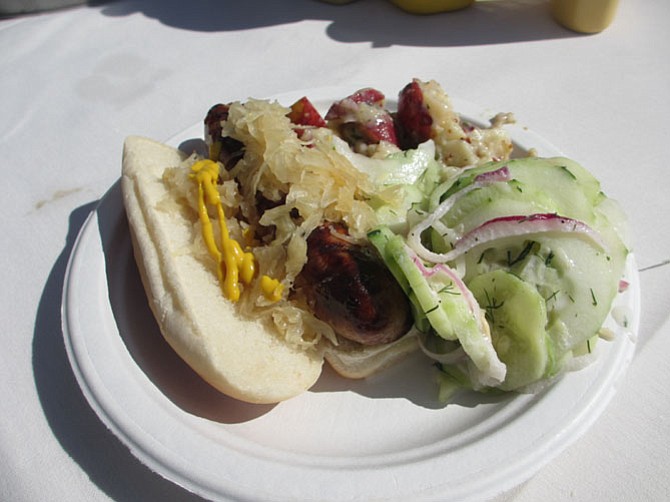 Fall marks the start of the festive season, the fair season, from holiday-themed events to traditional seasonal events.
Here is a preliminary schedule of fall fun ...
Oktoberfest celebration, Saturday, Oct. 1, 11 a.m. to 7 p.m., historic Church Street corridor.
Vienna's 9th Annual Oktoberfest, hosted by the Vienna Business Association and the Town of Vienna, brings together thousands of friends and families for one day of fun for children, live music, food and drink. Beer, German food, fair-food, and more beer anchor the caboose parking lot, Church Street, and the Town Green.
Honorary burgermeister Friderike Butler is sworn in at Oktoberfest kick-off at 11 a.m., followed by the grand opening of the beer garden. Caboose Brewing Company will pour four of its own beers at $5 a pour. Admission and most kids' activities are free.
Live entertainment is staged at three venues – the beer garden, Town Green, and at Church and Center streets – throughout the day. Rocknoceros kicks off the children's musical performances at 11 a.m. Sexton's 11-piece German band performs classic Oktoberfest music from 1 to 4 p.m., and local classic rock band Fat Chance takes the stage from 4 to 6 p.m.
Contests and activities take place throughout the day. For a full schedule and more information, visit viennaoktoberfest.org.
Church Street will be closed to vehicular traffic from Center to Mill throughout the day Oct. 1. In addition, Mill Street will be closed from Church to Maple, and Dominion Street will be closed from Church to Ayr Hill. All proceeds from Oktoberfest support First Night Vienna, the free family-friendly New Year's celebration sponsored by the Vienna Business Association and the Town of Vienna.
Halloween on the Green, Saturday, Oct. 15, 11 a.m. to 12:30 p.m.
Families with young kids will find this pre-halloween event just right … not scary but still a bit "spooky." Sponsored by Vienna Parks and Recreation and Vienna Moms, Inc., the mid-day event features seasonal crafts, games with prizes, moon bounces, a petting zoo, live entertainment, treats, and pumpkin-carving.
Capitol Steps, the satirical troupe whose tagline is "we put the 'mock' in democracy," performs on Sunday, Oct. 23, at 3 p.m., Oakton High School, on behalf of Shepherd's Center of Oakton-Vienna. The fundraiser sells for $30 pre-event, and, $35 at the door seats are available. Go to www.scov.org for details. Oakton High School is located at 2900 Sutton Road, Vienna, off Courthouse Road.
70th Annual Vienna Halloween Parade, "Jive Back to the 1940s," Wednesday, Oct. 26, 7p.m. step-off.
For generations, thousands of Vienna families have perched themselves along Maple Avenue, viewing one of Vienna's most anticipated events, the annual halloween parade. Dozens of bands, floats, clubs, and civic groups, motorcycles and mini- cars, parade from Branch Road to Center Street. The highlight is the hundreds of costumed kids and their families marching together. Prizes are awarded for creativity and enthusiasm. Sponsored by VBA and Vienna Parks and Recreation.
Bark in the Park, Sunday, Nov. 6, 2 to 4 p.m., Vienna Dog Park, 700 Courthouse Road SW. Playtime, obstacle course, off-leash and free.
A Bountiful Harvest, Thanksgiving celebration: dinner and live music, Friday, Nov. 18, noon to 2:30 p.m. For mature adults, the holiday dinner is sponsored by Vienna Parks and Recreation and the Shepherd Center of Oakton-Vienna. There is a $10 per person registration fee. The luncheon will be held at the Vienna Volunteer Fire Department, Flame Room, 400 Center Street S. Pre-payment due by Nov. 9. To register, call the Shepherd Center at 703-281-0538.

The annual Church Street Holiday Stroll, takes place Monday, Nov. 28, along historic Church Street. Santa arrives in an antique fire truck with its sirens blaring and school choruses perform on stage across from Freeman House. Free hot chocolate and marshmallows for roasting in open-fire pits, as well as a petting zoo, highlight the free community celebration sponsored by Historic Vienna, Inc. and the Town of Vienna. Santa and the mayor light the holiday tree early in the evening; afterwards, Santa takes his seat to listen to holiday wish lists. Merchants remain open, usually with featured specials for the "stroll."