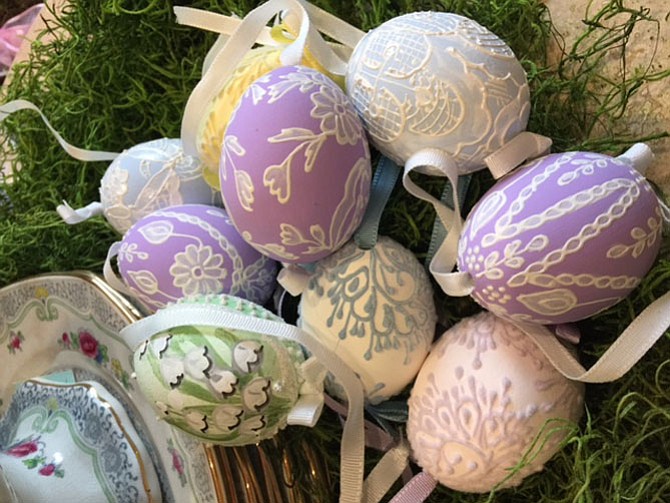 The arrival of spring offers fresh inspiration for table setting and home décor, say local designers. "What's really beautiful about spring is that there is such natural beauty outside," said Amanda Mertins, co-owner of Patina Polished Living in Old Town Alexandria. "Everything comes to life in spring. It's all so fresh, you don't have to do anything too contrived because decorations present themselves naturally with lovely daffodils and hyacinths. Pastel colored eggs are also part of the scene. You can combine the natural elements with the givens like eggs and bunnies."
"Trim a few branches from a flowering bush or tree," said Courtney Thomas of The Picket Fence in Burke, Virginia. "If you have tulips or daffodils, harvest some and make your own bouquet or place single stems in bud vases."
"You can't beat the amazing color display that's going on outside right now," added Anne M. Walker of Anne Walker Design in Potomac, Maryland.
"The deep magenta blossoms of the Redbud trees combined with the chartreuse color of the budding tree leaves and new grasses makes my heart skip a beat. Bring these vibrant greens and purples into your house any way you can: fresh flowers, throw pillows, candles. A little touch of coral is welcome now and is a wonderful harbinger of the warmer days ahead."
For a simple Easter centerpiece start with a tray, advises Thomas. "Cover the bottom with Easter grass or faux moss," she said. "Place a potted plant or bouquet in the center with decorative Easter eggs nestled in the grass around it. Add a bunny or two and you have a cohesive centerpiece that is easy to move if necessary."
Small accent pieces can have a big impact on table settings. "Make the table more festive by having place cards at each setting," said Kelley Proxmire, principal at Kelley Proxmire, Inc. "Make each setting a little bit more special by putting individual small flower arrangements, or perhaps an Easter candy at each place.
To create a sophisticated display, Walker advises forgoing traditional pastel colors and Easter eggs in lieu of vintage white décor. "[Home accessory stores] will all have decorating treasures, and they should be at deeply discounted prices this week," she said.
Mertins creates an "Easter tree" decorated with hand-blown, hand-painted eggs. "They're from Austria and they're really like works of art," she said. "You can hang these eggs from budding branches like those in a Forsythia [shrub] with green leaves and buds."