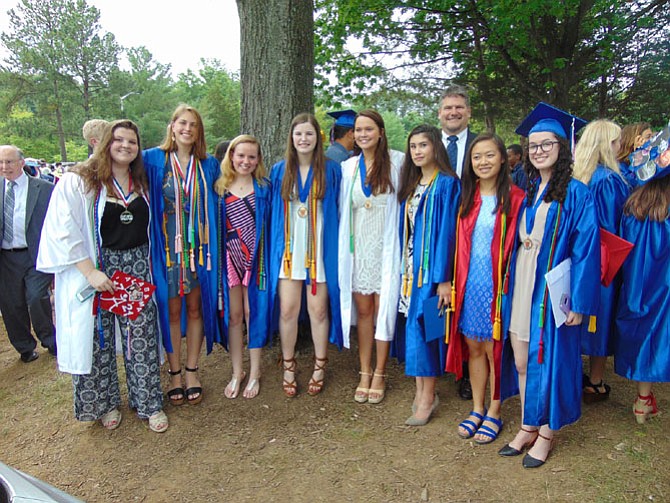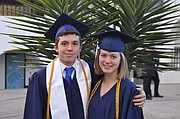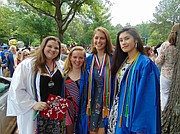 Members of Girl Scout Ambassador Troop 3833 graduated along with the rest of their class from T.C. Williams High School on June 17 at George Mason University's EagleBank Arena. The members of the troop graduated with more than 100 collective years of Girl Scouting experience.
The eight members who graduated that day were Sierra Arnold, Lucy Brinkman, Amanda Dorris, Emily Kiernan (T.C. Williams Class of 2017 valedictorian), Kathleen Lovain, Maeve Naughton-Rockwell, Kayla Shelley, and Anna Wolz. A ninth member of the troop, Olivia Anthony, graduated from her high school in Ecuador in May as she had moved with her family for her senior year.

Four members, Arnold, Dorris, Shelley, and Wolz all joined the troop while in kindergarten at George Mason Elementary School in the fall of 2004 and remained together through all 13 years of Girl Scouting. Brinkman, Kiernan, Lovain, and Naughton-Rockwell joined as Brownies in 2006 also at George Mason Elementary, while Anthony Joined as a Cadet Girl Scout in 2012 while at George Washington Middle School after serving for a number of years as a Girl Scout in other localities her family had lived in.

During their tenure as Girl Scouts, the girls earned two Gold Awards (Anthony and Shelley — the highest award in Girl Scouts), nine Silver Awards, and three Bronze Awards. n addition they completed numerous Girl Scout theme-based Journeys along the way.

They volunteered over the years totaling hundreds of hours within the Girl Scout community, at the local level, the national level, and at the global/international level. Volunteering opportunities included annual support for Wreaths Across America, the Alive Shelter, Christ House, Iliff Rehabilitation Center, and the Carpenter's Shelter. They volunteered for many school related activities at each of the four schools they attended. In addition, as each member of the troop was an athlete and played sports for T.C. Williams, they committed much time to teaching and helping younger athletes from the Recreation Department. They also partnered with younger Girl Scouts and troops on numerous occasions including the summer encampment, journey activities, hosting awards ceremonies, representing the troop at Service Unit meetings, and taking in two international exchange students to troop activities.
The troop members will now head off to college to continue their studies where they will be attending Amherst University, Auburn University, Hamilton College, The College of William and Mary, The University of Alabama, The University of Virginia, and Virginia Tech.