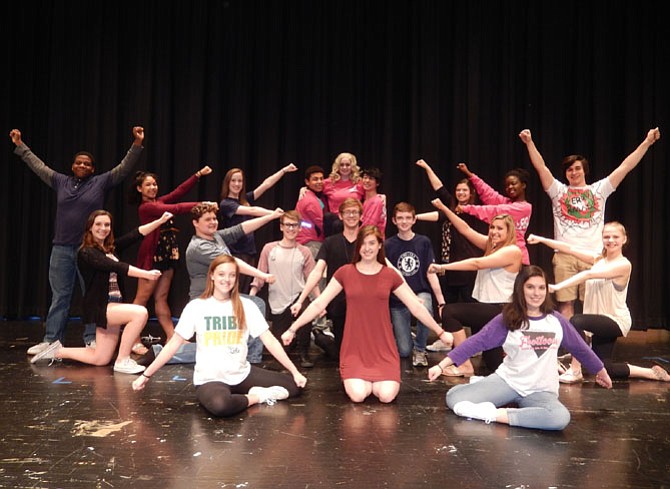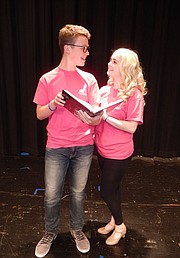 After graduating from UCLA, Elle Woods hopes to get engaged to her boyfriend. But he breaks up with her instead and heads to law school at Harvard. Undaunted, she follows him there and finagles her way into law school, too. Both problems and hilarity ensue as she attempts to win him back.
That's the premise of Westfield High's Cappies show, "Legally Blonde: The Musical." Show times are Friday-Saturday, April 28-29 and May 5-6, at 7:30 p.m.; and Sunday April 30, at 2 p.m. Tickets are $12 at the door and $10 with a student I.D. or online via www.westfieldtheatre.com.
The cast and crew of more than 80 have been rehearsing since February, and Director Rachel Harrington said things are going great. There'll be a 15-piece, pit band, and the actors are a mix of choir, band and theater students. Drew Tobin is the student set designer, and the three student choreographers are Sarah Bresnahan, Bridgette Carey and Emily Bidinger.
"It's really neat to see the kids create things like the dances, set, lighting, etc., that adults usually help them with," said Harrington. "And this cast is, by far, one of my favorites because of the enthusiasm and passion they bring to the production. Each one has created characters that really pop off the stage and become endearing. These kids make the show fun for everyone to see."
Although the show is "PG-13" for some of the college themes, she said the audience will love the high-energy, song-and-dance numbers. "The tunes are sure to be stuck in people's heads by the end of the night," said Harrington. "And our show even has some cute puppies."
Portraying Elle is junior Molly Van Trees. "She's optimistic, fun, has a bubbly personality, is hard-working and will do whatever it takes to get where she wants to go," said Van Trees. "With her, the sky's the limit. There's nothing she can't do, if she puts her mind to it."
Calling Elle an "outstanding character" to play, Van Trees said, "She's very different than I am, so she gives me an opportunity to step outside my box. She's like a real-life Barbie, and I'm so lucky to get to play such a cool role."
Her favorite song is "Legally Blonde Remix," the number right before the finale. "Elle has lost all hope, but realizes people believe in her, so she's reinvigorated to fight for her cause," said Van Trees. "It's an incredibly fun dance, the music makes you smile and it's always been one of my favorite numbers from this show." Because this play is so entertaining and uplifting, she said, "The audience will leave in a good mood. And they'll see lots of different people shine on the stage."
Classmate Wade Parker plays Elle's ex-boyfriend, Warner. "He's a self-centered, egotistical person who only cares about himself and his ambitions to become a lawyer," said Parker. "He's trying to live up to his family members who are lawyers, too, and he's also a ladies' man."
Parker enjoys his role because "I get to be both comedic and serious. And it's really fun to play a lead and have my own song, 'Serious.' It's about how Warner needs to find a girlfriend who's more mature than a sorority girl, and I love its rhythm and tone."
As for the show, he said, "The singers are great, the songs are catchy and upbeat, and the pit orchestra is phenomenal. And the acting and the chemistry between the actors is really believable."
Portraying Elle's best friend, Emmett, is freshman John Henry Stamper. "He's an older, more-experienced student who leads Elle's law study-group and helps her in school," said Stamper. "He's casual and laid-back, but also professional. He's trying to prove himself to his professor, while also mentoring the younger law students. He's a nice guy who's got everyone's best interests at heart, and he's a mediator who's there for everyone."
Calling it a fun part, Stamper said, "I get to be myself – relaxed and happy to be here – so it's easy to get into character for Emmett. Playing a lead isn't new to me, but it's always a good challenge." He especially likes "Find My Way," the show's finale, because "It's a big, ensemble number with everyone on stage. The whole show is wrapped up in this one song, Elle's the valedictorian and everyone has a happy ending."
He said the audience will like the show because "There are a ton of songs and large dance numbers, and the college theme will be relatable to many people. And everyone on stage is having such a good time that the audience will, too. In addition, the set is absolutely huge and well-done; the story opens with a two-story, sorority home."
Junior Aja Rene plays Paulette, Elle's best friend whom she meets when she's going through a crisis. "She's very spunky, yet shy," said Rene. "She has outbursts of excitement, but pulls back when she has to deal with confrontations. She doesn't have a lot of confidence."
"I genuinely see a lot of me in her – even the accent," continued Rene. "She's from Boston and I'm from [New] Jersey. I like her sense of style and comedy. She has lots of energy, and her clothing style is outlandish and wacky, but she's not ashamed of it – she owns it."
Rene's favorite song is "Bend and Snap," which she sings. "It's the turning point where Paulette finds her confidence," said Rene. "I also like 'Legally Blonde' because it's a beautiful, intimate duet between Elle and Emmett. It brings me to tears every time because it's so emotional."
She said everyone will love this musical's energy and comedy. "It's so electrifying and memorable that people will leave saying lines from it, for the next week, maybe forever. They'll also remember how well the cast members meshed together and fed off each other's vibes. This show is a rollercoaster and a perfect balance between comedy and a lesson well-learned. To me, it's a must-see."