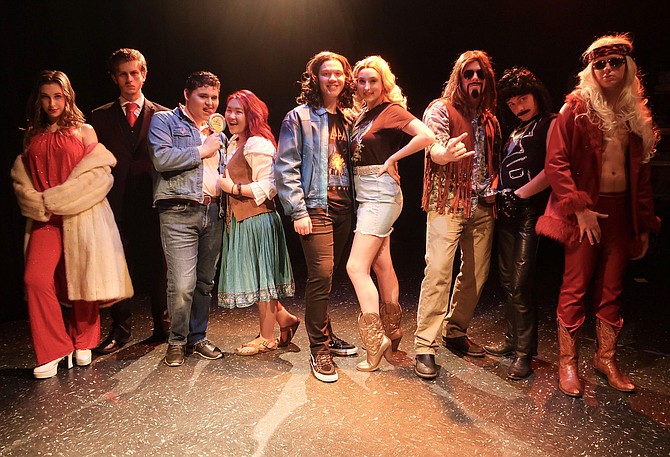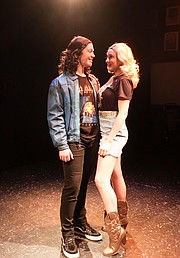 Audiences will journey back to the 1980s in Westfield High's rollicking rock musical, "Rock of Ages." And they'll be singing the words to the songs along the way.
It's the school's Cappies entry, and the show will burst upon the stage, Friday-Saturday, April 26-27 and May 3-4, at 7 p.m., and Sunday, April 28, at 2 p.m. Tickets are $12 at the door or $10 online via www.westfieldtheatre.com.
"We've got excellent singers and very skilled dancers, and this show is just a good time – upbeat and colorful," said Director Rachel Harrington. "And just when you think you've got it all figured out, something new happens to keep the audience engaged. We're really excited about it."
There are two, main storylines. One is about Drew, a guitarist who works in The Bourbon Room, a bar in 1980s Los Angeles. Lots of rock bands perform there, and Drew wants to be a rock star. His love interest is Sherrie, who moves from Kansas to L.A. to be actress.
The other plot involves a businessman who wants to knock down the Sunset Strip, where the bar is, and replace it with other businesses. And the owner, a protestor and everyone in L.A. who loves rock music are trying to save it.
The show features a cast of 40, crew of 20 and a live, five-piece rock band. Scenes take place mainly on the Sunset Strip, in the bar and in a dance venue called the Venus Club. "We want to bring people into a rock-concert setting – from the set design to the costumes to the music," said Harrington. "We really want the audience to sing along and take part in the show, not just watch it."
"The kids have done a really great job of bringing the spirit of the show to life," she continued. "None of them were alive in the '80s, but they've immersed themselves in the '80s culture and in their roles."
HARRINGTON even brought in former "American Idol" singer Constantine Maroulis to give her students a workshop on this show. That's because he played Drew in the original production of "Rock of Ages" on Broadway.
Portraying Drew for Westfield is junior John Henry Stamper. "Drew is an aspiring musician living on L.A.'s Sunset Strip," he said. "He's thoughtful and kind of a sweetheart, but naïve, at times. He has good intentions and badly wants to make it big. It's great being a guy who loves rock, because that's me in real life. I love all the music in the show, and I want to do justice to these songs because my parents' generation knows all the words."
Stamper's favorite one is "Here I Go Again," sung by the whole cast while he sings the lead. "It's so high-energy and it's a personal favorite of mine," he said. "And it breaks the fourth wall, too."
He said the set design and costumes will also appeal to the audience. "We built an extension to the stage so we could get closer to the audience and imitate a rock concert," explained Stamper. "We'll also have lights suspended onstage to go with the music, and the set will have moving parts. The costumes include acid-washed jeans, leather jackets, jeans jackets and fancy shirts – a lot of throwback accessories and outfits."
Junior Keeley Rogers plays Sherrie. "She's a bubbly and optimistic girl who has big dreams and is willing to do whatever it takes to make them come true," said Rogers. "She's a daydreamer, but she's persistent. She's also outgoing and loving and really falls hard for Drew. I usually play the antagonist, so it's fun being the quirky and lovable person."
Rogers especially likes the song, "Don't Stop Believin'," because "It's the final number of the show, everyone's onstage and the whole audience will love it because it's such a well-known song."
CALLING THE MUSICAL itself "super-fun," she said it'll be such an upbeat experience and so interactive that the audience will feel like it's part of the story. "The adults will completely love it because it has all the songs they know and love," said Rogers. "And there's a big, wow factor with lots of dancing and big, group numbers. It's a spectacle with a cheesy love story."
Portraying German businessman Hertz is senior Braeden Anderson. "He's come to L.A. to industrialize it and rid it of rock," said Anderson. "He wants to completely renovate the whole Sunset Strip. He's stern, strict, cold and serious and doesn't joke; he's always thinking about work."
Anderson is enjoying the challenge of performing with a German accent. "Hertz is ultra-masculine and, previously, I've played softer roles," he said. "And playing the antagonist is a new experience for me and different from my natural, optimistic personality. This guy's very cynical, so I get to stretch myself as an actor."
His favorite number is "Hit Me with Your Best Shot," sung by Hertz's son. "It's the first time his son stands up to him," said Anderson. "After that is my character's turning point, because he realizes he's making a mistake and losing his son."
He said this show has lots of comedy and is a "jukebox musical. If you like rock, you're going to enjoy it. Adults can reminisce over the songs, and people my age will like them, too. We grew up on rock and roll because it's still relevant. And everyone will come away having a favorite song."
Junior Faith Cho plays Regina, the mayor's new city planner who becomes a feminist and tries to save her city from developer Hertz. "She's headstrong, doesn't take 'No' for an answer, does what she wants and fights for what she thinks is right," explained Cho. "It's fun playing her because she's really out there and loud. She's kind of a rebel and is very energetic and excited."
Cho especially likes the song, "We're Not Gonna Take It," which she sings. "I get to dance with the ensemble and all my friends in it," she said. "I'm leading a group of protestors trying to save L.A."
Overall, she said, "Rock of Ages" is "everything you want a musical to be. It's full of energy, with something special about the characters' passion. And there are so many different types of characters and such great music that this show definitely has something for everyone."