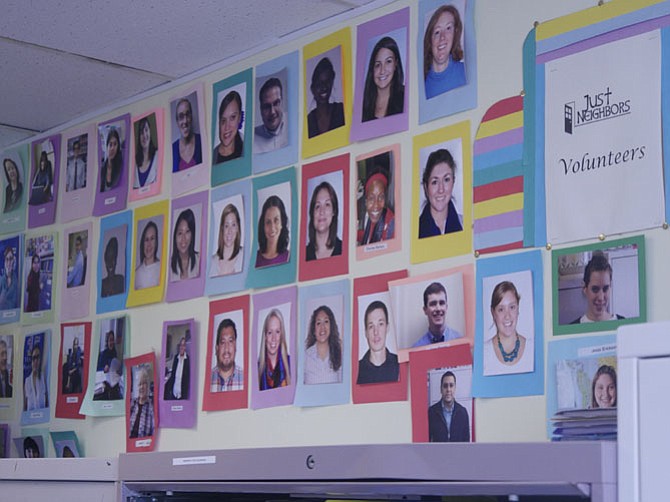 Contact
Just Neighbors Ministry Inc.
Main Office:
5827 Columbia Pike #320,
Falls Church
703-979-1240
Herndon Office:
1141 Elden Street, Suite 200
Herndon
"We have happy, sad and angry — all kinds of stories." — Lisa Trangsrud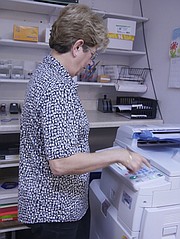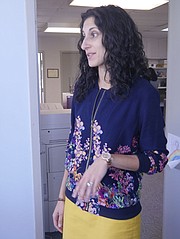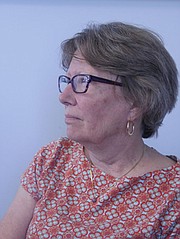 The Just Neighbors office on Columbia Pike is bustling. The phone rings with an immigrant inquiry on how to get a green card or apply for a work permit. Phone volunteers ask an initial set of questions. An initial triage of clients for the interview process determines if this is the kind of case Just Neighbors handles, do they have the capacity or does it need to be referred out. Erin McKenney, executive director of Just Neighbors, says they handled 650-700 clients last year and turned away 1,000 due to lack of capacity.
A Deferred Action for Childhood Arrival (DACA) client (sometimes referred to as dreamers) has come into the office to apply for citizenship for the first time.
"We have just started taking applications again," McKenney said. "We were only processing two-year renewals but stopped taking new applications right after the election because we thought there was a good possibility the Administration would vacate Obama's order on dreamers."
She says today they have five or six new DACA cases scheduled and will have five more later in the week, now a routine pattern.
Sarah Milad, one of the three staff immigration attorneys, has just interviewed a DACA renewal client. "It's a great story. He is on his third renewal and about to become married to a U.S. citizen. His mother was here with him today; she was so happy. It will be a normalized status soon."
Maria Maldonado, a volunteer attorney, is photocopying the thick stack of paperwork submitted by a DACA client. McKenney says in the initial screening meetings volunteers collect a wide variety of demographic information on ethnicity, source of income, family composition, plus copies of passports and other official documents and any information such as interactions with police.
Right now "we are taking only squeaky clean clients because anything, even a minor offense, adds an element of risk," McKenney said.
In the initial meeting Just Neighbors collects $100 as a legal fee to cover all future court costs. "For a domestic abuse victim it could be 13 court filings. These can be long, complicated cases. And if they don't have the money, we waive the fees."
The next step is attorney review of all of the materials to determine if there is any legal pathway to citizenship for the immigrant. "We won't file unless we're pretty sure they they will get through because it just puts them at more risk since that information would be out there on their illegal status." she said. "We tell them don't give your money to anyone else who tells you that you do have a pathway because there are a lot of unscrupulous people out there who will just take your money. On the other hand we just did a grant to do screening because it was estimated that 10 percent of undocumented probably had a pathway to citizenship but didn't have the knowledge or money to apply."
After any required medical check-ups, police reports or other documents have been submitted, the case is sent in to USCIS. "In a good it case it may take six to eight weeks," McKenney said, "it takes about two years to get provisional approval which allows you to get a work permit. Then it takes another two years or longer to get the U visa. Legal status takes four to six more years."
A DACA applicant on his second renewal says Just Neighbors made this a streamlined, smooth application process for him: "They told me what I needed to bring, helped fill out all of the forms and sent in all documents." He continued that the entire process would be very complicated and "I'd probably not do something correct. There are a lot of people out there who don't know." He says he has been in America since he was 7 years old. "I grew up here. I consider this my country. If the DACA order is repealed and I had to return to Peru, I don't know what I would do over there. I'm not familiar with the culture. I would be lost for a while."
McKenney said, "We have had a rush of volunteers recently, and the phones are ringing off the hook. I probably get five new volunteers a week." The organization's volunteer coordinator sits at a long table working on scheduling and organizing volunteer activities. Behind her a volunteer sits translating a client's story from Spanish into English to add to his stack of papers.
"We always try to have one Spanish-speaking person available to answer the phones." McKenney said. "We had 154 volunteers last year; a number of them are attorneys who are retired and were not originally immigration lawyers. Immigration law competes only with tax law in its complexity." McKenney adds that some of the volunteers work once a month and others may work 8-15 hours a week.
Lisa Trangsrud has been volunteering for Just Neighbors for at least 10 years "since we were in a church basement." She says she started out interviewing clients but now "I'm not a typical volunteer anymore." Trangsrud serves as treasurer on the Just Neighbors Board of Directors. She says she first got interested because she had taught in a school with a large immigrant population "and I had an investment."
On the other side it's a bad time because of fear. "We have happy, sad and angry — all kinds of stories." Trangsrud said.
McKenney adds that immigrants don't show up in their usual places because they are afraid, even if they are citizens, because they think ICE will arrest them. She explains there is also a fear of separation. Children are afraid they will come home and their parents will be gone. McKenney explains that the attorneys talk to the families about separation and preparation planning so if they are deported someone has the power of attorney for the children's future.
In addition, Just Neighbors holds education sessions titled "Know Your Rights." There has been much demand for these sessions, and they have trained 50 volunteers who can organize and present this information on what is required if a person is stopped by a law enforcement officer. "We've been giving these sessions all over the local area," she said.
Just Neighbors is a non-profit organization providing legal services to low-income immigrants in Northern Virginia focusing on humanitarian cases. The breakdown of services is 18 percent of the cases for DACA, 25 percent for victims of domestic violence, 6 percent employment authorization, 22 percent advice and counsel and 29 percent for refugees and asylees. Fifty-eight percent of their clients live in Fairfax with 16 percent in Arlington and others in Alexandria, Prince William and Loudoun.
Just Neighbors is funded by contributions from government grants and foundations, faith communities and businesses, individuals and client fees. "We are currently trying to raise $50,000 for another lawyer — we're at $40,000 right now." McKenney said. But she adds that volunteer hours last year were valued at $400,000 almost equaling the entire budget of $439,947.
McKenney says there has been an outpouring of support from people who say, "I've got to do something. There is a gush of people donating money, time, things."