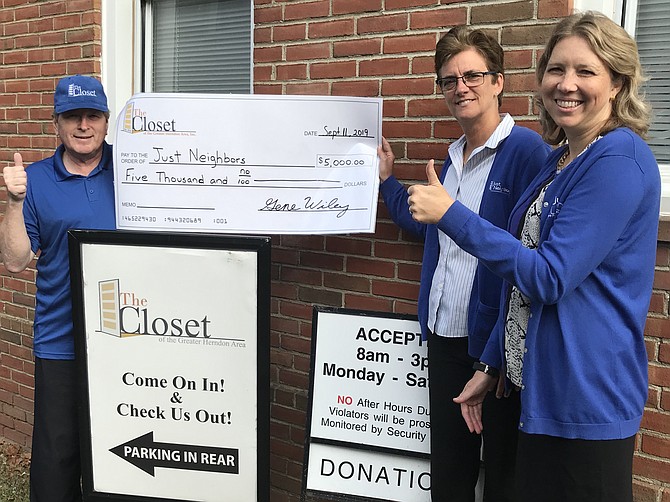 The Closet of the Greater Herndon Area, Inc. once again granted an award from surplus revenues to a local nonprofit organization working to strengthen the fabric of the Northern Virginia community. On Sept. 18, Gene Wiley, Board President of The Closet of the Greater Herndon Area, Inc. awarded $5,000 to Just Neighbors. The organization founded in 1996, has delivered much-needed immigration legal services to more than 7,000 low-income immigrants from more than 115 countries. Many were refugees, asylees, Dreamers, victims of domestic violence and those issued Temporary Protected Status because of armed conflict or natural disasters in their homelands.
Erin McKenney, Executive Director of Just Neighbors and Stephanie Barnes, Operations Director, accepted the award on behalf of the organization. They thanked The Closet for supporting the organization for such a long period and told the difference funding assistance made to the organization and individuals.
"The financial support makes a difference for us, to be able to help more clients...Right now we're able to serve only about one in four clients who call for assistance... because that's the limits of our capacity...This money helps specifically serve clients in the Greater Herndon area," said McKenney.
IMMIGRANTS served by Just Neighbors have an income that is at or below 200 percent of the federal poverty line and cannot afford private immigration attorneys to help them apply for benefits for which they are eligible, according to the organization's website. Staff and volunteers focus on the most vulnerable immigrants in the community, helping them navigate the immigration system and access benefits that enable them to become self-sufficient and contributing members of the community.
Barnes said that one of the organization's most inspiring and greatest joys is that she can see how the organization's work changes lives, one at a time, giving hope to immigrants who seek to be contributing members of the community. She said a church recently referred to them an immigrant woman with an active status work permit, an EAD, Employment Authorization Document. Attorneys checked to see if she qualified for anything more permanent that might lead to getting a green card and citizenship. "We figured out that she qualified for abuse against women (through the Violence Against Women Act)." Barnes explained abusive men might use immigration fears to control women. "She's now working in the Dulles area at a very nice hotel (and) this week, it's good news all around; she became a supervisor...and got a green card."
Wiley explained The Closet chose to support Just Neighbors for many reasons, among them, The Closet and Just Neighbors have "shared clients."
"They are in the business of helping immigrants to our country to be settled here permanently…The Closet's clients are also trying to set up and establish themselves here," said Wiley.
SINCE THE CLOSET'S FOUNDING in 1974, it has awarded more than $3 million in cash grants, including over $88,000 in 2018 to nonprofit community groups and programs in the Herndon-Reston-Sterling area. The Closet welcomes grant applications from local organizations that create positive change in Northern Virginia by improving the lives of people in need. Grants typically range from $500 to $5,000 and are dependent on The Closet having surplus revenues to distribute. For more information, visit theclosetofgreaterherndon.org.
--