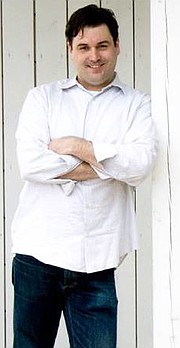 Bill Blackburn, managing partner with the Home Grown Restaurant Group and past president of the Del Ray Business Association, has been named the 2017 Business Leader of the Year by the Alexandria Chamber of Commerce.
A 15-year resident of Alexandria, Blackburn oversees operations of the Home Grown Restaurant Group, which includes Pork Barrel BBQ, Holy Cow and the sushi bar in Del Ray, and Sweet Fire Donna's and Whiskey & Oyster in the Carlyle neighborhood.
Blackburn recently completed two terms as president of the Del Ray Business Association and is a current board member of the Alexandria Small Business Development Center. Along with Donna and "Mango" Mike Anderson, the restaurant group has invested dollars and resources into the Del Ray and Carlyle neighborhoods and employs over 100 people in the City of Alexandria.
Blackburn helped established the Holy Cow Burger Fund, through which a quarter for every sandwich sold is donated to a local Alexandria nonprofit through ACT for Alexandria. Since its inception in 2012, the fund has donated nearly 400,000 quarters ($100,000) to more than 150 local charities.
As a member of the DRBA, Blackburn has been instrumental in providing knowledge, leadership, time and resources for numerous efforts including: the annual Turkey Trot; the Del Ray Halloween Parade; providing a 30-foot Christmas tree for Del Ray; leading efforts for First Thursday events; and Art on the Avenue, which draws over 20,000 people to the City of Alexandria.
Additionally, Blackburn serves on the board of directors for the Advocates for Alexandria Aquatics. He resides in Del Ray with his wife Megan, their 2-year-old son and two dogs.
Blackburn will be honored at the annual Business Leadership Awards Presentation and Reception, presented by Burke & Herbert Bank, on Oct. 18 at the George Washington Masonic National Memorial.
For more information, visit www.alexchamber.com.