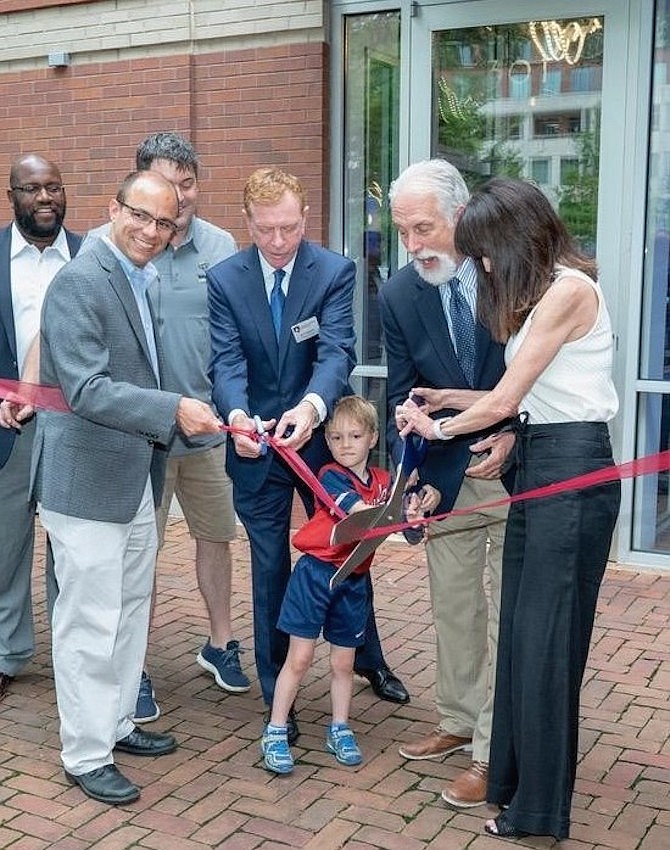 Whiskey & Oyster held its official ribbon cutting July 8 to celebrate its addition to the burgeoning Carlyle District dining scene.
The nautical-themed restaurant is the brainchild of local restaurateur "Mango" Mike Anderson, his wife Donna and business partner Bill Blackburn. It opened to the public last month and joins five other Alexandria restaurants as part of the Home Grown Restaurant Group, including Sweet Fire Donna's and Tequila & Taco in the Carlyle District.
The 100-seat space at 301 John Carlyle St. took the Andersons and Blackburn more than two years to open. It features a repurposed dry cleaning conveyor, which holds more than 120 varieties of whiskey and rotates above the bar and dining room.
Sherri Farley, a Del Ray designer, created the interior's maritime look, adding pieces from local Torpedo Factory artist Chris Earney. A 55-seat patio area will be opened soon.
The restaurant is working with The Oyster Recovery Project to recycle its oyster shells and 10 cents of every oyster sold is donated to the nonprofit ALIVE! to fight hunger.
Whiskey & Oyster, 301 John Carlyle St., 703-567-1533.