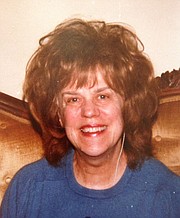 Jane Maynard Reppa, a resident of Alexandria for over 60 years, died at her home on Aug. 7, 2017. She was 97 and was born in 1920, the year that women got the vote.
Born and raised in the mill town of Wauregan, Conn., Mrs. Reppa majored in French at Mount Holyoke College and continued her education with graduate courses at Bucknell University. She was a high school English teacher prior to joining the American Red Cross during World War II.
It was during her job with the Red Cross that a fellow worker smiled and said, "I want you to meet my nephew Bob." The rest was history, with a happy and fulfilling marriage of 57 years.
After marrying Robert Reppa, an Army officer, in 1946, she accompanied him for 20 years and lived in numerous places in Germany and the United States. An excellent cook and entertainer, Mrs. Reppa was hostess to numerous military gatherings, especially at Fort Hood, Texas, where Col. Reppa was battalion commander.
In the 1960s, Mrs. Reppa was employed at Lansburgh's Shirlington store where she put her formidable organizational skills to work in the Boy Scout and boys' departments. After her husband retired from the military and became an administrator at the University of Maryland, Mrs. Reppa continued with her outstanding hostess skills and entertained hundreds of students at their lovely home in Alexandria.
Mrs. Reppa's home was filled with beautiful antiques, especially French porcelain, avidly collected over many years. One source of pride was her extensive cookbook collection which numbered over 1,600 volumes.
She was a member of the American Association of University Women, the Former Prisoner of War group of Northern Virginia, the Connecticut State Society of Washington and the Panama Canal Society.
Preceding her in death were husband Robert and son Robert, Jr. Survivors are daughter Katherine Reppa of Colorado; grandsons Christopher and Jonathan Gold; and niece Deborah Burns of Massachusetts.
Mrs. Reppa will be buried at Arlington National Cemetery.