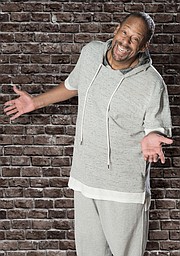 MetroStage in Alexandria is presenting "Wizard of Hip (Or When in Doubt Slam Dunk)," which runs through Sept. 17.
The story is a non-stop comic journey of Afro Jo, an African American "everyman," as he travels from adolescence to adulthood in search of the ultimate state of "hip," a place of comfort and peace in an ever-confusing and changing world. It's a fast-paced journey crossing bounds of race, class, and gender.
After touring in 30 cities across the U.S. and an off-Broadway run in the 1990s, "Wizard of Hip" returns almost 30 years later — a little grayer, older, and wiser, but still crackling with the revelatory journey that made it an audience favorite more than two decades ago. The show has help from two back-up singers, Kanysha Williams and Jasmine Eileen Coles, and original music by William Knowles on keys and Greg Holloway on drums.
Playing the title role of Afro Jo is Thomas W. Jones II, who describes his character as a kind of everyman trying to find the Great Oz and the answer to hipness. He juggles "how to negotiate that fine line between curfews and peer pressure looking for his own personal nirvana," he said. "Looking for the Great McDonald in a burger-and-fries existence."
Jones, who wrote, directed, and performs the piece, said his biggest challenge is sustaining the necessary stamina required for a show that's fast-paced and highly energetic.
"Tom Jones has contributed a remarkable body of work to MetroStage since 2001 as a writer, lyricist, director, and choreographer, so we thought it was time to showcase him as the amazing actor that he is," said MetroStage's Producing Artistic Director Carolyn Griffin.
She asked him about his solo show, "Wizard of Hip," which he had performed at Studio Theatre in 1992, ending up Off-Broadway for an extended run.
"So we decided to open our season with it, but that we would add more music and give him two lovely 'hip' backup singers who we named 'the Lady Doo Wops,'" she said.
She added: "It is great to have this high-energy, movement-oriented, music-obsessed (that is only a slight exaggeration) artist performing on our stage. I think our audiences will really enjoy this coming-of-age story, which apparently is timeless."
"We have found the story he told in the '90s, when he was considerably younger, still resonates today as relevant and universal, crossing all races, ages, genders, so that we expect everyone will be smiling with recognition and appreciation for the journey he has taken in search of 'hipness.' Seriously, wouldn't we all like to be a little more hip?" she said.
Jasmine Eileen Coles said her role as a Lady Doo Wop is an energized, fun and supporting one that moves through different characters, environments, and time and space that helps explore the meaning of hip through the lens of Thomas Jones.
"Playing this role stretches me as an artist because the show moves so quickly it is important to stay present and it is also important not to take focus. Navigating such a delicate balance has been thrilling," she said.
Kanysha Williams said she too has the task of representing many different people in Afro Jo's life. "You may see me as an elderly woman, a basketball player, a school girl, etc. I am assisting the lead character in his storytelling, and in doing so, my 'character' helps to illustrate ideas and move the plot along," she said.
She said her biggest challenge is being flexible. "In this show, we have to constantly flow from one idea to the next, one character to another, and it's been an exciting challenge for me to authentically portray these different people," she said.
At MetroStage, Jones has a large resume of work, having written and directed "Harlem Rose," "Three Sistahs," "Two Queens One Castle," "Bricktop," "Cool Papa's Party," "Pearl Bailey … by request," "Ladies Swing the Blues," Bessie' Blues," "Shake Loose," "Uprising," and "Blackberry Daze." He also directed "The Gin Game," "Anne & Emmett," and "Gee's Bend," for which he received a Helen Hayes nomination. This is the first time he will be performing on MetroStage.
Performing on stage at MetroStage is "Wizard of Hip" on Wednesdays, Thursdays, and Fridays at 8 p.m.; Saturdays at 3 p.m. and 8 p.m.; Sundays at 3 p.m. and 7 p.m., through Sept. 17. Tickets are $55-$60 with student and active military discounts available. For ticket reservations, call the theatre at 703-548-9044 or go online to www.metrostage.org. For information and group sales, call 703-548-9044. MetroStage is located at 1201 North Royal St. in North Old Town Alexandria.