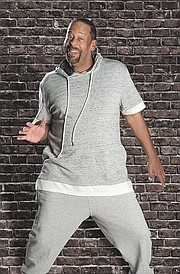 For the past 16 years you have seen the work of Thomas W. Jones II on our stage. His direction and choreography, books and lyrics for his original musicals have graced our stage offering exciting world premieres of his work and remarkable story telling. Whether it is the fictional "Three Sistahs" or the tribute to Charlie Parker in "Ladies Swing the Blues," to Bessie Smith in 'Bessie's Blues" or to Pearl Bailey etc. etc. etc., his gift for telling the story and the unique way he can incorporate music into plays that aren't even musicals make Tom Jones an incredibly dynamic artist. And now you will have the opportunity to see him back on stage because who knew he could also act?!
"Wizard of Hip (or When in Doubt Slam Dunk)" is an original play he wrote and toured throughout the U.S. in the 1990s, landing on stage at Studio Theatre in 1992. It tells the story of Afro Jo as he progressed from adolescence to adulthood. Back in the day he literally toured with a chair ending up off Broadway for an extended run. As we say in our promo material he is now "a little older, a little greyer and hopefully a little wiser." And this time he has two Lady Doo Wops to help him tell his story accompanied by keys and percussion. He really does add music to everything!
Opening Aug. 17 and running for five weeks it will be a perfect entertainment for anyone from adolescents to adults. It is a journey that crosses race, class and gender, because we do have to grow up at some point. And hopefully we will all be a little hipper as a result.