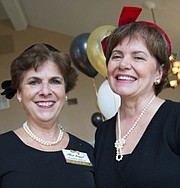 Newcomers to the Potomac community have many opportunities to learn about the area and make new friends as they settle into their new home.
One place to start is with the Potomac Area Neighbors' Club, formerly the Potomac Area Newcomers' Club.
"We changed the name because some people have been in the group for a long time," co-president Alexa Kempel said.
Kempel herself has been in the group, which celebrated its 50th anniversary last year, for 12 years.
"I have made amazing friends through this group," she said.
Potomac Neighbors' Club is a women's club though some activities include men like the dining group and the theatre group, she said.
With 130 "or so" members, attending club activities is a good way to meet new people and learn new things all while learning about Potomac's neighborhoods and places of interest.
Among activities offered are book clubs, a walking group, bridge and canasta groups, a great decisions discussion group and something Kempel calls "pop up activities," one-time offerings.
"One of our members is a trained cook," Kempel said. "She holds classes occasionally, last year we all learned how to make French macarons."
And there is also a monthly luncheon meeting.
Kempel is proud that the group is so diverse with members of all ages and ethnic heritage, reflecting the community at large.
"It's a really nice group," she said. You can be as active as you want to be."
The main goal is just to have fun, she said.
For more information visit potomacneighbors.com.