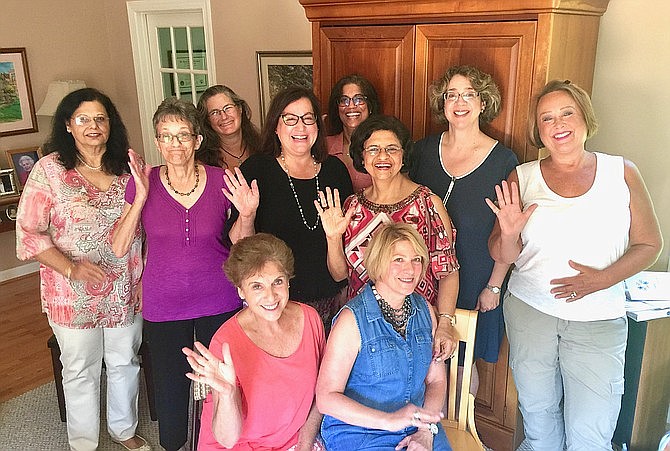 Newcomers to Potomac hoping to learn about the area and make new friends have no further to look than the Potomac Area Neighbors Club, a long-standing women's organization, a group that truly has something for everyone.
Within the larger group, which met monthly before the pandemic, and now meets via Zoom, there are activity groups where you find that something for you.
Choose from book groups, cooking groups, film buffs, current affairs discussions, power walkers, bridge, theatre, writing, Mah Jong and two or three dining groups.
If nothing sounds appealing, suggest an idea of your own.
"It's great because whenever new people join, they bring good ideas," President Joanne Zinsmeister said.
Men are included in some activities but, PANC is mostly a women's group Zinsmeister said.
"I wouldn't rule [men] out as members," Zinsmeister said. "After all we are a neighbors club."
PANC started as Potomac Area Newcomers Club in the late 1960s.
"The object is still the same, to develop new friendships," Zinsmeister said.
But, in the three years she has been president of the group, especially before the pandemic, Zinsmeister has worked to expand membership and make it multi-generational. She worked to add activities that appeal to younger members, planning activities that include children and families, along with planning events for weekends and evenings to include working women, she said.
"Our mean age is probably 60, which is why I was reaching out to younger members," she said.
When the pandemic started, Zinsmeister said, she was afraid that would be the end of PANC, but they turned to Zoom and joined with Friends of the Library and Potomac Community Village to offer programs.
They have had author talks and have an art historian and a photographer scheduled to speak this fall and a local chocolatier will teach the art of making bon bons.
"We aren't just girls having fun," Zinsmeister said. "We want to be a presence in the community, it's our civic duty, we want to be women helping women."
The group donates meals to Interfaith Women's Shelter in Rockville, sponsored a toiletries collection for the women and helps in other ways within the constrictions of COVID-19.
"I asked members what they like best about PANC," Zinsmeister said. "Most said long lasting friendships. I think that is the glue that binds us."
To learn more about Potomac Area Neighbors Club, visit www.potomacneighbors.com