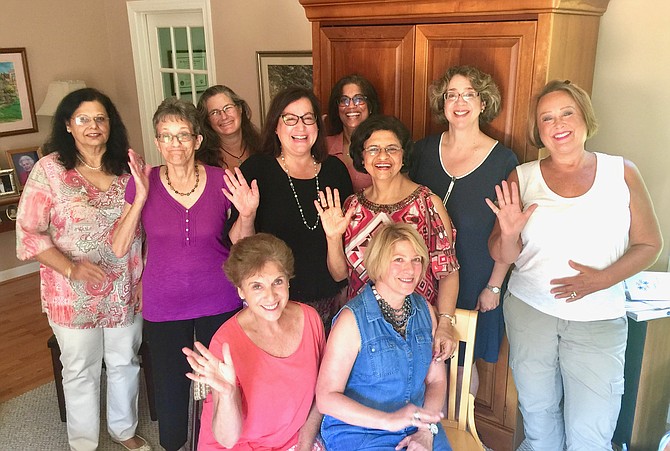 The Potomac Area Neighbors Club (PANC) offers residents, new and long-time, ways to meet new friends, learn more about area and participate in new activities.
"We are like a micro community," Co-President Joanne Zinsmeister said.
The group brings people together to socialize; enjoy favorite, or new, activities; and learn from guest speakers.
"Members are encouraged to initiate and lead any activity they may want to introduce, Co-President Joanne Zinsmeister said in an email. "New and creative ideas are being discussed constantly by the board."
Zinsmeister and Alexa Kempel serve as co-presidents of the club but, Zinsmeister said, the group is run by a board of directors that meets monthly to plan and coordinate the many activities members participate in.
"The Potomac Area Neighbors Club is a social club of women who live in Potomac and surrounding areas. It meets on the second Thursday of every month at an area restaurant, community center or country club to conduct its General Meeting," Zinsmeister said. "Most monthly meetings also feature an interesting speaker or theme along with time to socialize, enjoy good food and catch up with friends."
"Within the larger club," she said. "There are various Activity Groups that have their own events and outings according to the schedule and interests of each. Some of these are Dining Inn, Wine and Dine, Book Groups, Culinary, Film Buffs, Current Affairs, Power Walkers, Bridge, Theater, Writing and Mah Jongg.
Though the membership is all women, men are invited to participate in some of the activities, Zinsmeister said, particularly the dining groups.
Formerly the Potomac Area Newcomers' Club, the group has been active for more than 50 years.
"We changed to name because some people have been in the group for a long time," Kempel said in an interview last year.
Kempel herself has been in the group, which celebrated its 50th anniversary last year, for 12 years.
"I have made amazing friends through this group," she said.
The group is hoping to expand its reach and membership, Zinsmeister said. Right now, there are about 140 members, but the board of directors hopes to expand by becoming more multigenerational and attract working women by planning more evening and weekend activities.
"The group accepts new members throughout the year," Zinsmeister said.
Visit: potomacneighbors.com.