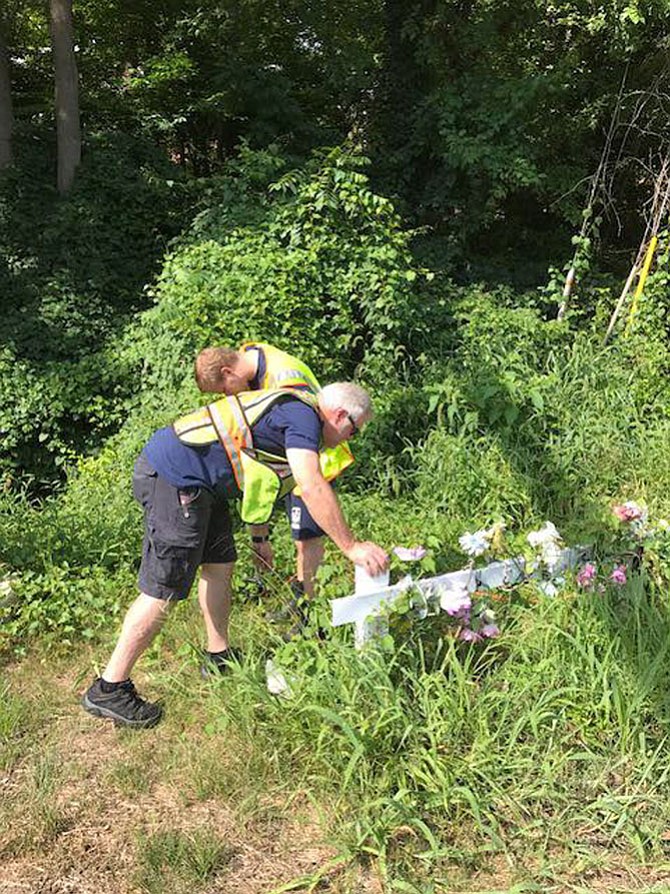 Members of the Cabin John Park Volunteer Fire Department Station 10 on River Road took time this month to clean up the site of a memorial to a Bethesda family killed in an accident in February 2016.
"I've been driving past that scene weekly for a while and it had gotten to the point where you couldn't even see it, so we decided to clean it up," said Greg Bastien, who drives the ambulance for the station's Sunday day crew.
Other members of the crew Matthew Kubler, Meghan Leahy and Andreas Lair-Ferrari, all volunteers at the station like Bastien, helped clear trash that collected near the site and pulled weeds growing over the small white crosses decorated with artificial flowers.
The accident at River Road and Braeburn Parkway killed three members of the Buarque DeMarco family who were on their way to a play at Walt Whitman High School where Thomas Buarque De Marco, 18, was a senior. In addition to Thomas, his father Michael, 52, and mother Alessandra, 53, also died when a car traveling west on River Road hit the Buarque De Marco auto as it made a left turn from eastbound River Road.
Helena Buarque De Marco, 15, was also in the car but survived the accident.
Bastien said he was not on duty for the accident call but he felt it was important to clean up the site. "We notice it," he said.