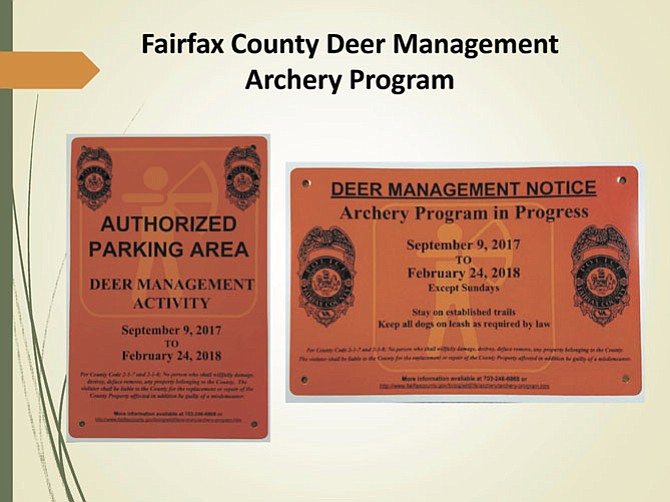 The county-managed program to control the deer population in Fairfax County via regulated archery hunting in designated areas starts on Sept. 9, not the first of the month, as previously reported in the Connection. When making note of the error, Dr. Katherine Edwards, wildlife management specialist for the county, stated that the Sept. 9 was "intentionally set as the start of the program to avoid overlap" with the Labor Day holiday weekend.
The deer maintenance program is managed by both Edwards and Sgt. Earit Powell through the Fairfax County Police Department. The comprehensively regulated archery program is the method most widely used by the county to keep the deer population in check. In last year's deer harvest, 1,092 deer were taken through the archery program, while only 53 deer were harvested during sharpshooting operations.
At a recent public meeting to discuss the program, area residents Melissa Klein, Kathie Sowell, and Phil Church brought up concerns about the use of archery as the main method of population control. Church was particularly disturbed about what he called "the wounding rate for these animals."
Edwards, Powell, and Kevin Rose of the Bureau of Wildlife Resources, Virginia Department of Game and Inland Fisheries, explained why the costs and logistics for sharpshooting operations and managed firearms hunts were shown to make those options untenable and not equal to the task.
Edwards also wants the public to know that "the county investigates reports of wounded deer," saying that there was no information about the one incident related by Sowell, of Vienna, that could attribute the deer injury she described to the program. "All archery tackle … is marked with unique hunter identification numbers so that each shot can be traced back to the individuals in the county program."
As for the "wounding rate" concerns expressed by Church, Edwards notes that any "incident of non-recovered deer must also be reported to program management" and that investigations of injuries were determined to be "non-hunting [program] related based on the type of archery tackle used."
According to county data collected about each hunt in the Deer Management Program, Edwards says that between FY 2014-2017, Fairfax County reported non-recovery/wounding rates of approximately 4-7 percent using modern archery tackle, and that these rates are "similar to or lower than wounding/non-recovery rates reported in more recent published studies for hunters using modern archery equipment."
Much of the reporting is self-regulated, but Powell expressed his confidence in the program and in the reporting, noting that many of the group leaders are well-known to the organizers and veterans of the program. "We take every aspect of the program seriously," he said at the meeting, and added that hunters who had failed to properly complete mandated recordkeeping in the past had been removed from the program, as the result of reports by peer hunters.
Information about the Deer Management Program is available on the county's website at www.fairfaxcounty.gov.